2020: Your invitation to celebrate the Schools' 400th anniversary with us!
We are celebrating the 400th anniversary of the founding of Merchant Taylors' School in 2020 with a whole series of exciting, involving and celebratory events.  Our message for this year is quite simple; come and join us! There is something for everyone, including:
(Click on an event to register your interest)
For those of you far from Crosby, we would love for you to plan your own celebration events, wherever you are in the world! We'll send you a pack of goodies to help your drinks party, afternoon tea, dinner or picnic join our official events as part of the calendar.
To ensure that you receive your invitation to these exciting celebrations, make sure that you are signed up to our e-newsletter (www.merchanttaylors.com/stay-in-touch) and watch this space; we will share dates and more information in the next few months.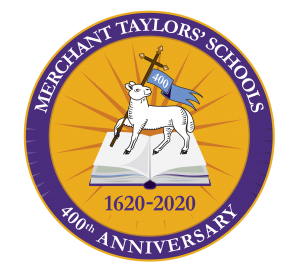 We ran a competition for pupils from across the Schools to design a logo for the 2020 celebrations; Year 10 MTBS pupil Oliver Bigley was chosen as the winner by the Heads and the 2020 planning committee. They were particularly impressed by Oliver's attention to detail, as he has included elements of the Merchant Taylors' company logo as well as a book to indicate the academic nature and achievements of the School, and the lamb looking forwards to the future.