There are a number of way to enjoy using the fitness facilities of the the Ian Robinson Sports Centre. To apply please either download, complete and return an application form or visit us any evening or weekend
Fitness Suite Application Form
Get in touch to take advantage of our fantastic summer offer!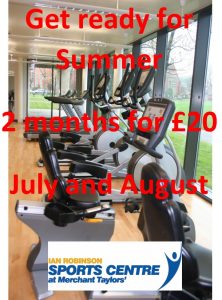 Free Weights
CV Machines
Weight Resistance Machines
Kettlebells
Medicine Balls
Squat Rack
Fitness Classes
To cancel your membership, you must complete a cancellation form at the Ian Robinson Sports Centre reception. We do not accept cancellations by email or by phone.