Extra Curricular for Infants & Junior Girls
There are many clubs and extra-curricular activities available to the children both at lunchtimes and after school. The links below provide further information on each club/activity.
Yoga
Yoga

During our Mental Toughness week Mrs Richardson led sessions of child Yoga for years 3, 4, 5 and 6. This was linked to our school code of conduct to promote: commitment, challenge, control, confidence, care, courtesy and consideration (a practice which will continue throughout the year).

Yoga helps children to blossom in every aspect of their being – physical, mental, emotional and spiritual and means making peace with yourself and the world around you; meeting the challenges that life presents with skill and compassion and without fear of failure.

Yoga exercises help improve concentration and reduce the stress and anxiety that can occur from the pressures of daily life. Practising yoga on a regular basis helps build self-esteem and develops a positive outlook on life.

Our sessions begin with warm-up exercises before learning a 'Sun Salutation' sequence. This leads into embracing collaborative poses such as: 'Open Heart' and 'Double Boat' to promote trust. A visualisation journey brings the session to a close. This final meditation helps to relax the whole body and mind.

Pupils thoroughly enjoy these sessions and look forward to developing their Growth Mindset attitudes this year.
Gardening
Gardening

Gardening Club is run by Miss Beckerleg every Thursday lunchtime 12.30-1pm for years 3-6– weather permitting! It is a very popular club with our many keen gardeners excited to grow a range of fruit and vegetables. So far we have successfully harvested a delicious crop of potatoes, red onions and carrots.

This Spring we will be developing our fruit bed which currently has some raspberries, rhubarb and strawberries growing. We have recently planted onion sets and will be preparing beds ready for planting peas, beans and salads later in the year.

Our gardeners have a busy time keeping on top of the weeds and will be working hard to prepare the poly-tunnel for tomato crops. We will also be busy propagating seedlings and hope to get some pumpkins sown ready for next Autumn.

Watch our garden grow!
Computer Club
 

Computer Club is run by Miss Crichton who is the ICT Co-ordinator. It is open to years 4, 5 and 6 on a Tuesday, Wednesday, Thursday and Friday. The club is very popular, with the girls racing to be the 1st in the ICT Suite. Lunches are staggered so in theory this gives all the girls the chance to enjoy the club.

Years 5 and 6 quite often finish any outstanding work or undertake research for topic work. There is a large resource area on the network that is available to the girls and they can access this using their class logon.

Miss Crichton is on hand throughout lunchtime to answer questions and give guidance as and when needed.
Orchestra
The Merchant Taylors' Primary School orchestra is designed for all children from Year 2 – Year 6 who learn to play an instrument either in school or at home and have mastered basic skills in notation and rhythm.

We specially arrange all the orchestra music so that each individual feels comfortable with what they are expected to play so that the children can then enjoy being part of a large ensemble. Orchestra practices are held once a week after school.

We play as a full orchestra – violins, cellos, flutes, clarinets, saxophones and percussion – for part of each term and divide into string orchestra and windband at other times to give the children as wide an experience of ensemble playing as possible.
Choir
We feel it is important to give the girls the opportunity to experience a wide range of music including part-singing, and so girls in Years 5 and 6 are eligible to audition for the school choir. There are, at present, over 50 members of the choir who all work very hard to maintain the high standard of singing we expect of them.

The choir sings in several concerts each year both in school and in the local community and always performs during our Prize Giving ceremony held at the end of the summer term. We have been invited to sing carols for the Stoke Association on numerous occasions and, last November, helped raise nearly £500 for Childline when we gave a combined concert with the Maghull Parish Handbell Ringers.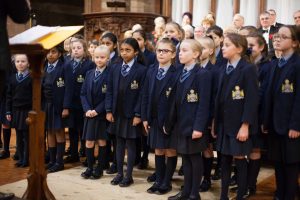 Multi-Sports
This term, all pupils in both Year One and Year Two were given the opportunity to take part in a new multi-sports club, offered by David Campbell Soccer Schools Programme.  Sports offered included football, athletics, tag rugby and athletics.  This proved extremely popular and cater for children of all abilities.
Art Club
Art Club is offered to Year 4 and takes place on Tuesdays from 3.30 – 4.30. The pupils are able to develop their own ideas as an extension to the art curriculum, exploring the qualities and possibilities of different media, colour, painting and textiles.

The pupils look at the work of various artists, examining their methods and approaches which enhances their own compositions.
Netball
Pupils in years 5 and 6 are given the opportunity to practice their netball skills with Netball Club run by Mrs Evans and Miss Ley each week after school. Year 5 practice in the sports hall every Tuesday until 4:30pm and the Year 6 sessions are on Thursdays at MTGS and also run until 4:30pm.

Each practise session begins with a range of team games which enhance passing, shooting and footwork skills as well as general speed and fitness.

The girls then move on to High five netball, which includes a timekeeper and scorer, before moving on to play full 7-a-side games. The girls also get the chance to compete against other local schools (boys included!).
Magical Maths
Merchant Taylors' Primary School will soon be holding a new set of clubs for Magical Maths. These will be different in content to those we have run before, so even if children have been part of the club, they won't be repeating activities.
KS2 Club will begin on Monday 16th April and run for five weeks.
KS1 Club will begin on Tuesday 5th June and run for five weeks.
We look forward to welcoming back Professor Poopenshtinken. More details about how to sign up will be added to the website nearer the time.
Comic Club