Chess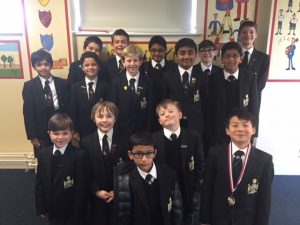 Our Chess Cafe takes place each Monday lunchtime in our Science/DT Room. It is a very popular club, not least because we eat a buffet lunch as well as playing a game or two.
Chess Cafe is open to pupils of all ages and ability – they can play the game at their own level and enjoy the social side of the sessions.
We are usually joined by pupils from Waterloo Primary School, who make the journey down Crosby Road North to join us for the lunch each week. It is great for the pupils to interact with others in a friendly, relaxed environment.
Chess Club – Kings & Queens Join Forces
Merchant Taylors' Primary School and Merchant Taylors' Boys' Junior School have collaboratively joined forces to create a mammoth Chess coaching session. In all, 43 extremely keen and enthusiastic chess players attended the after school activity, coached by Chess Coach, Karl Nadin.  The girls and boys enjoyed their time together and played many games which required great concentration! We are all looking forward to the exciting year ahead of learning to be even better chess players!