Cricket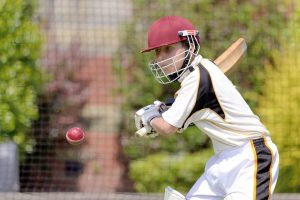 Cricket is one of the main sports in the Junior School. Our Summer term is full of fixtures against local Independent schools in the North West. We have a number of teams, the members of being picked from the training sessions we hold at lunchtimes and after school.
Cricket is a very popular sport in the Junior School and our standard of cricket is high.
Cricket Reports
Old Trafford Cricket
On Friday 24th June Adam Blagbrough, Harry Scott, Henry Syncer, Monty Barr and myself went to Old Trafford Cricket Ground for a coaching session with Ashley Giles.
We left school at 8:30am. After we arrived at Old Trafford we met Sandy Mitchell, who works for Lancashire County Cricket Club Charity Foundation and he told us they have a lot of school children who visit them.
Because it started to rain, Sandy took us indoors to the nets and we met Ashley Giles on the way. Ashley was really nice and friendly. Once we were inside Ashley made us warm up by doing sprints up and down the arena. Ashley said he could not join in because he had just eaten a full English breakfast pizza and he was too full!
After the warm up we went into the nets and played for 2 hours nonstop. We took it in turns to bat and bowl. Ashley coached us on our batting but mostly bowling. With bowling he filmed us individually and played it back explaining how we could improve and he put cones out so we had to run in a straight line to bowl.
We had a great time and once the session was over we then had a photograph taken with Ashley. Sandy and Ashley then took us on a tour of the players' dressing rooms and the press centre and Ashley told us about winning the Ashes against Australia in 2005. Before we left Sandy gave each of us a new bat. We had a great day and on the way back to school stopped for lunch at McDonalds. We were really grateful to Sandy and Ashley for being so nice and making the day so enjoyable.
By James Green Y4H
---
The Report on the Final of the Lancashire Cup
On Monday 20th June Merchant Taylors under elevens cricket team travelled to Blackburn to defend their Lancashire cup trophy. Our opponents were St James Primary School. Merchant Taylors won the toss and Jack Carney the Merchants' captain chose to bowl.
It was a wet pitch so the ball did not bounce much making runs rather difficult as the ball didn't travel very far.
Ethan Howard was the opening bowler, followed by Matthew Hennessy, Jacob Millar and Ben Jackson. On the second over the pair got run out and lost five runs from their score. After that over Rhys Davies bowled and took two wickets.  Max Whitehurst then bowled and captured one wicket. Most wickets were taken due to the low bounce of the pitch. Oliver Raw then bowled a tidy but wicketless two over spell.
St James made a fair score of forty one runs for seven wickets in 12 overs.
When Merchants batted the first two pairs reached the score of forty two and all the last two pairs had to do was to defend the score. Unfortunately, Matthew Hennessy was bowled because of a 'shooter'. Thankfully Merchants were still in front. The last pair came in and safely kept the score with Jack Carney hitting several boundaries. Unfortunately a further five runs were lost when Rhys Davies was dismissed bowled.
At the end Merchant Taylors had increased their score to 69 to take the trophy by 28 runs, winning the Lancashire cup for the second time in a row. Well done to all the boys for this achievement.
Reported By Ben Jackson and Matthew Hennessy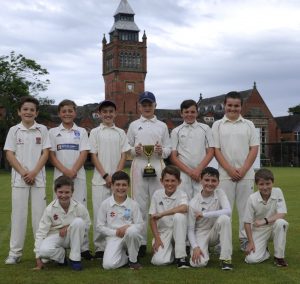 ---
Cricket A Team V Birkenhead School.
On Monday 20th of June A and B team played cricket against Birkenhead School. We knew it would be a tough test. We lost the toss and they elected to field first. Max Fitton and Adam Cousins went in to bat first. They made a good start, only being dismissed twice and scoring well. The following pairs also made useful contributions but we continued to lose wickets, each time 5 runs being deducted from the score. Hugh Bonner, Henry Sinker and Adam Blagbrough batted very well and increased the total by 19 runs. When everyone had finished batting we reached a total of 43, which is not normally a good score and we also lost 10 wickets. Mr Youngson said that we had to bowl and field extremely well to even have a chance of winning.
We went into field. In the first over I took a wicket and we progressed throughout the innings keeping the runs down with tight bowling, avoiding wides mostly. It came down to the last two overs. Adam Blagbrough and Henry Sinker were put on to bowl. Birkenhead needed 10 runs to win. On Henry's second to last to bowl, the batter edged the ball and Matthew Clarke did a brilliant catch to get him out. Then Adam bowled last and had a good over. In the end we won by 4 runs. We all played well and it paid off in our field to win the game.
Archie Whawell
---