Rugby
Our rugby teams are very active in the autumn term with regular matches being played against schools throughout the North West of England.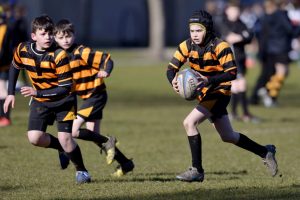 Sports Reports
---
Home Teams: Merchant Taylor's Boys School – Under 10's (2 teams – A & B)
Away Team:  Newcastle / Birkenhead / Kirkham
Date:  13 November 2017
Start time:  1:00pm
Finish Time:  3:00pm
Location: School Playing Fields
Weather: Cloudy & a bit cold
Our team squad ('A Team') included:
James Moore / Dylan Travis / Sebastian Rice / Fraser Kingsley / Charlie Kennedy / Joseph Wake / Daniel Raw / Christopher Kirby / James Criddle
We played 4 matches against MTBS 'B' Team, Newcastle, Birkenhead and Kirkham Grammar
We won ALL our games with tries from most Merchant Boys players.
Good tackling was carried out particularly by Dylan who stopped one of Newcastle's fastest players with a great tackle stopping the try.
Also, good passing was made by all players, particularly James who unselfishly passed the ball to a team mate allowing him to score the try.
The game was carried out in good spirit apart from the Birkenhead coach who shouted at the referee!
Everyone shook hands at the end of each match with cheers for each team.
The day was enjoyed by everyone who took part, especially Merchant's because we won every match that we played!

Match Report provided by Fraser Kingsley
---
U11 Rugby Report by Jaden Rose (A-Team Captain) Merchant Taylors V Manchester Grammar – Monday 9th October at Hall Road
The A team got off to a good start scoring an early try, but then our star winger Ollie Byrne had to go off because he was not well. Unfortunately we then had to carry on with eight men on the field, as there were no replacements available. We continued to play good rugby and added two more scores. The second half started with two tries by MGS, but we kept our heads up and battled for it. They then scored one more try, but we still didn't give up and we scored the fourth try to win the match 4-3. We were all delighted win this tough match.
The B team got off to a slow start, MGS scoring four against times with Merchants managing to fight back with two tries of their own. A motivating chat with the coach helped to start the second half strongly; we were not allowing ourselves to lose this game, and came back to win the game 7-6. Great tries by Henry Sinker, Ethan Wall and Ellis Worsley contributing.
The C team were an inexperienced team against a strong side, and were beaten 0-8, although they never gave up and Christian Syms among others put in a great effort.
---
On Wednesday 8th March two Under 11 rugby teams travelled to sunny Rossall for a festival of rugby involving some 20 teams. MTS Saracens and MTS Tigers each played 5 matches which were all tough, close  and  hard – fought on muddy, energy sapping fields.
At the end of the day the most valuable player from each of the teams was awarded a medal. For the Saracens, Cameron McGowan was the recipient while the Tigers star man was Max Fitton.
The boys all definitely needed a hot bath when they got home!
---
Rugby Report – William Cunliffe
MTS Under 10 B v Birkenhead on Monday 30th January
A great win for Merchant Taylors 'B' team vs Birkenhead 'B' team, the score was 13 tries to 6.
Some of the best performances were from the main try scorers James Moore and Ethan Wall. Joseph Bigley and James Green supported with good tackling and running.
Everyone had a turn in the scrum and our team ran at our competitors aggressively. Several parents were there to watch and cheer us on.
An enjoyable match; next time we need to improve on our passing!
---
U11 RUGBY REPORT by Cameron and Harvey 
On Monday 24th of January Merchant Taylors A played Newcastle under Lyme at the school playing field, Liverpool Road.
Captain: Harvey Baker
Vice: Cameron McGowan
In the first half we got to kick first to them. At the start we were right on their backs, winning all rucks and amazing team tackles and scoring 3 tries. The try scorers were Harvey, Cameron and Mathew. The rest of the first half was hard-fought but even and we struggled to break through again as their line put us under pressure.
In the second half we came out strongly again hitting an amazing tackle from Cameron and Harvey taking an opponent off the pitch and saving a certain try. Now the subs came on: Harry came on for Archie and Shaun came on for Matteo. Unfortunately we conceded two tries, but then we responded well crossing for two more tries by Archie Whawell and Archie Kennedy. Shaun was very unlucky by getting tackled on the corner of their try line after running 3/4 of the pitch following a great off-load. Cameron's and Harvey's man of the match has to be Shaun for coming out his comfort zone  and nearly scoring an amazing try.
---
Merchant Taylors u11 B vs Newcastle under Lyme
We played on 23/1/17 on the school playing field. Lots of parents came to watch.
It started off pretty much like a normal rugby match. Surprisingly we got a try in the first twenty seconds which was scored by Charlie and gave us great confidence.
We went on to get a few more tries we carried on throughout the match with amazing aggression, great running and some really nice passing. Mohammed, who has pretty much only just joined the school, scored three tries in his first match so well done to him.  We carried on attacking and created more than ten more tries and enjoyed the experience of totally dominating the match.  Everyone in the team scored at least one try! Unfortunately we did concede a couple of tries in the second half and well done to Newcastle for not giving up. The final score was 22-2 to Merchants.
Top scorers: Charlie- seven, Jules- five and Mohammed- three.
---
Rugby Fixtures V Manchester Grammar
On Friday 7th October 47 boys from Y5 and Y6 travelled to Manchester on a double decker to play rugby. (It was a noisy journey!) This is the largest number of boys to represent the school at rugby on any one day.
And what a great exhibition of rugby it was!
The A team matches were very close and could have gone either way. At half time the U11 team were one try down. In the second half, despite our stout defence and two more tries from Merchants, we finished two tries down at 7-5.
The U10 team meanwhile played superbly as a unit to finish winners by 5 tries to 3. It could have been more with a couple of fumbles on the opponents try line preventing further scores.
The B and C team matches were also mainly close affairs with the U10 C team grabbing a creditable draw and the other teams ending as brave losers, MGS being able to call on more replacements in the second half as Merchants were depleted with a few absentees.
Thanks to all the parents who turned out on the touch line and gave support and encouragement to the lads and well done to all our boys for a super effort and some great rugby.
---
U10 Rugby match v Birkenhead
On the 29th of February, the under 10s first team played Birkenhead School at MTS. This was the second time we had faced them this school year after beating them away in September 4-7. It was a tough match throughout, with Birkenhead dominating the rucks. They scored first, giving us a hard time in the first five minutes, but we fought back instantly levelling the score. We went on to score some good individual tries as well as some solid team efforts. We won the game 6-3, with one particularly good try coming from Harvey Baker. We are closely matched sides but overall we put in a strong performance which justified our win. Our main strength was our tackling, including a great effort from Archie Whawell. We've had a good season and hopefully we can keep building on our strengths and become even more successful going forward.
Well done to all the team who contributed to this win and a successful season.
By Archie K