Headmistress' Welcome
Welcome From Mrs Tao
I am delighted you have chosen to join Merchant Taylors' Girls' School (MTGS) in September and I feel very honoured to welcome you to this fantastic school. I will endeavour to work hard for you and always do my best; I will expect no less from you. No doubt you are full of questions and are a little uncertain about how you will begin, what you will experience and, ultimately, what you will learn from MTGS.
What we can promise you is an unswerving dedication from a talented group of staff ad pupils. We believe passionately in giving the very best opportunities to all of you to enable each of you to develop a lifelong love of learning. You may already know that we provide fantastic academic outcomes for our pupils. However, we are not here just for results but to educate you as a whole individual. It is not results alone that determine your future but also your mindset, your character and how you treat others. Having a positive mind-set should be the driver for your own personal excellence and to ensure that in all that you do you can fulfill the huge potential that we have identified in you.
The school motto is 'concordia parvae res crescunt', which means 'small things grown in harmony'. I would like to encourage you to be unlimited in your dreams for the future and to be completely open to life's possibilities and believe in yourself. Just remembers where there is a will there is always a way! When you are faced with a challenge, and there are likely to be many, you should face it head on and, as a result, you will develop even further.
Together with you and your parents, weer will work in partnership with you to ensure that your time with us is rewarding, fun and, above all else, happy.
Mrs Tao, Headmistress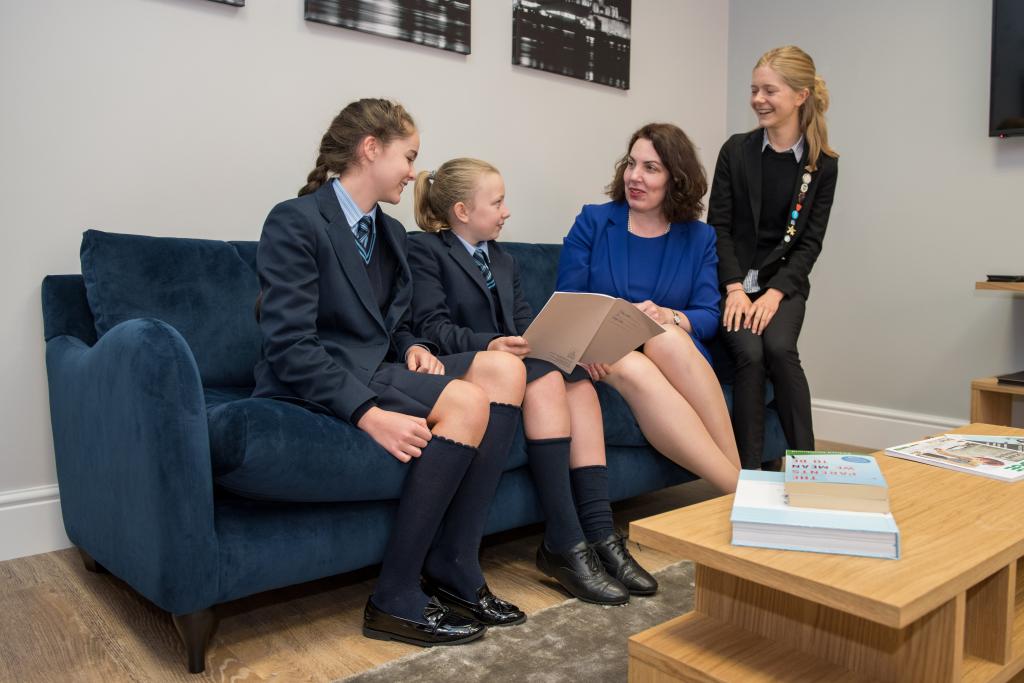 Welcome to the Lower School
Welcome to our new Year 7 pupils!
I am Mrs Moore, Head of Lower School and I am looking forward to our initial virtual meeting in July and the follow-up Year 7 small group virtual meetings that I am organising for you too. These will be the first opportunity for you to chat to me and to some of your year group before we all get together for our Induction Day on Thursday 3rd September.
The remote learning period of time has been a very strange one for us all to go through, but I hope, like me, you have learnt a bit more about yourself, I hope you will have developed some strategies on how you can cope with major changes in your life, as well as perhaps, picking up a few new digital learning skills on the way too!
MTGS is an exciting and fun place to learn…even during Covid-19! We are all looking forward to returning to school in September and cannot wait to welcome our youngest pupils to start their next journey with us.
During the summer and, when you join us in September, there will be lots of people ready to lend you a helping hand and to make you to feel confident and happy. I am Head of Lower School and I will be the first person you meet before putting you in touch with a 'Lower School Buddy' – in fact, you will have two buddies, one from our current Year 7 and one from our current Year 8. They will get in touch with you during the summer and will be able to give you lots of advice and hopefully answer some questions you may have. You will also have two Sixth Form Mentors to look after you too. These girls are our most senior girls with a wealth of experience to share with you and they will also help to answer any of your questions. They will be in touch with you over the summer holidays too. So even before you actually walk through the front door and into school in September, you will already have met me and, a few fellow new Year 7s, plus 2 junior girls and 2 senior girls who will all help you to prepare for arriving at MTGS!
See you in September!
Mrs Moore
Year 7 Form Tutors
When you arrive in Year 7 at MTGS you will join the Lower School Section. Mrs Moore is head of the Lower School section and will be ready to help you settle in. We have also have a team of Tutors in Year 7 who will give you day to day support. You will see your Form Tutor at the start of each school day and they will be your first port of call if you need help or have any issues. Our three Year 7 Form Tutors are Mrs Heaton(7M), Miss McWatt (7T) and Mrs Grindley (7G).
Year 7 Pupil Induction Booklet 2020
Frequently Asked Questions
The Top 25 Transition Questions asked of our Head of Lower School
Over the years we have been asked many questions when talking to Year 6 girls who are looking forward to joining us at Merchant Taylors' Girls' School. You may have already asked some of the questions below or they may not have crossed your mind yet but, hopefully, the information below will help!
If there is anything else that you would like to know, please do not hesitate to ask when you see us next or you could always email our Head of Admissions Mrs Roberts [email protected] or me, Mrs Moore, Head of Lower School [email protected] and we will always be there to help you.
1. How should I get into school in the mornings and where should I go?
When you arrive in School whether you have caught the school bus, travelled in by car or walked from home, you will enter School by the main door, drop off your mobile phone and then go straight to your form room ready for registration. You will be shown where your form room is during your two Induction Days in September. For the first few weeks, I will be there to great you each day anyway and I will help you with any worries you may have at the start of the day. Senior girls will also be there to help you too.
2. What time do I start and end the day?
All girls should be in school by 8.30am at the latest and registration is at 8.40am, although you can arrive any time after 8.00am. We finish lessons at 4.00pm and at this time you return to your form room to collect your belongings and then you are free to go home unless you have any after school clubs to go to!
3. What if the bus is late or I get stuck in traffic?
If you arrive after 8.40am, then you must go straight to the Reception Desk in the school entrance and explain what has happened and you will be registered there.
4. When are lunch and break times?
Morning break is from 11.10am-11.30am, so there is plenty of time to have a drink, snack, have a chat with friends, visit the bathroom and get yourself ready for the next lesson. Lunchtime runs from 12.35pm until 1.40pm and each year is given a particular time slot to go to lunch.
5.Do I need to bring money in to school for lunch and breaks? Can I bring my own food to school?
You do not need to bring money for lunch as your parents have already paid for this. At break time, snacks are available to purchase from the Dining Room. They are usually £0.50-£1.00 or you can bring your own snack from home. All food must be eaten in the Dining Room or outside. You may not take food or drink into the classrooms. Our catering team are excellent and there is always a wide variety of hot and cold food to choose from. Your parents will have confirmed any dietary requirements to us and we will cater for them.
6. What can I do at lunch time?
Either before or after you have eaten lunch, there are all manner of different subject clinics, clubs and general training sessions for you to attend as part of our extensive extracurricular programme. Joining these clubs is a great way to make friends but if you want some free time, then that is fine too – we do want you to relax and make friends. However, we do encourage you to sign-up for at least two lunchtime activities a week.
7. Do I choose which form I am in and who will be in my class?
We will put you in forms so you do not have to worry and you will meet girls in your teaching group during the group online meetings in the Summer before meeting more during your 2-Day Induction Programme at the start of term. You will very quickly get to know the girls in your form, your teaching group, your year group and in your House and soon you will know a lot of people very well.
8. Will I always be with the girls in my form and how many girls are there in each form?
You will be with the girls in your form for only a short time during registration but you will also be with a different group of girls for your lessons and, in PE and your language lessons, the groups will be mixed again! This means that you will very quickly get to know lots of girls and make friends with quite a range of different people some from different year groups too. There will be about 20 girls in each form and also in each teaching group.
9. How many assemblies will I have? What will they be about?
There will be two assemblies each week sometimes as a school and sometimes as a year group or with your House. This means that you will share assemblies with smaller and larger groups of girls from different age groups and quickly feel part of our Merchants family. Mrs Tao will take some assemblies, different teachers or pupils may also enjoy taking assemblies for you and all of these will focus on lots of different themes and messages.
10. Are there lots of new subjects?
Yes, there are lots of new subjects and new teachers for you to meet. Some subjects you will be familiar with but there are also some exciting new ones. This is all part of the adventure.
11. How many languages will I learn? Can I choose which ones I study?
At the start of Year 7 you have the chance to experience all four of the languages we offer – French, Spanish, Mandarin and German. After these taster lessons we will ask you to choose either French or Spanish and either Mandarin or German as the two languages that you would like to continue having lessons in.
12. Will I have swimming lessons?
Yes, all Year 7 have a block of weekly swimming lessons. Every year we have girls of all abilities, so please do not worry. Whatever your ability you will be well taken care of and your swimming skills will improve.
13. Do I have my own timetable?
Yes, you will be given a timetable during your Induction Days and on your first day in September you will be spend time looking through this. You will also be given a homework timetable. For the first week Year 7 do not receive homework; we understand that there is a lot to take in when you start a new school.
14. Why do I have to walk to different classrooms?
Each subject has a specific teaching area in the school because it is where their specialist equipment and books dedicated to that subject are kept. You will find Science Laboratories, Art, Design Technology Suites, MFL rooms and Music, ICT and PE specialist areas – this means that you must move around the school to experience each of these state of the art facilities.
15. How will I know where to go?
Although MTGS is probably a lot bigger than your Primary School, it is not as huge as many other secondary schools and you will soon find your way around. Over the Summer you will get an electronic copy of our Year 7 Induction Booklet and in the hard copy that you will be given for your Induction Days in September, there is a map of the school and you will be able to practice using this map to find your way around the school. MTGS is a very friendly school and everyone here will be looking out for you – feel free to ask any member of staff or pupil for help if you need it.
16. Can I sit where I want in lessons?
For the first few weeks your teachers will sit you in alphabetical order until they get to know you. After that the teachers will put together a seating plan, so you may sit with different people and this may change lots throughout the year.
17. Am I allowed to visit the toilets when I want?
Girls are encouraged to have toilet breaks during the break or lunchtime to avoid missing lessons. However, the teachers understand that sometimes nature calls and you may need an extra visit during a lesson, just politely ask the teacher if you can be 'excused'.
18. Do I carry all my books around with me during the day? How do I remember which books to take to different lessons?
You will soon get used to your timetable and new routine. Our teachers know that it takes time to get used to so many things at once, but you will soon get there! We will help you to use your locker to store your books during the day so that you only carry your books for your next lesson and then swap these over at break and lunchtime.
19. Do we have lockers? What do I use it for and do I need a lock?
Yes, you have your own locker that that is your space to keep your exercise and text books in during the day. You can also use your locker for storing other personal items so that you do not have to carry a heavy bag around with you during the day. You will also have an open cube space in the changing rooms for you to use to store your PE bag – this should be kept locked using a padlock so you will need a lock for this. Your lockers do have a key that you will be given at the start of the term and you must look after this key as you have to pay to replace it if you lose it! Mrs Moore will have a spare key in case you do lose or forget it but keep it safe on your own keyring and hopefully this will avoid losing it!
20. Will I get a lot of homework? Can I do homework at lunchtime?
When you join us in Year 7, you will be given a homework timetable which will tell you what homework you can expect. Most nights this will be homework in just two or three subjects and you should allow for an hour of homework each night. We encourage homework to be done at home so that you can enjoy your lunchtimes and be involved in some of the enrichment activities we offer.
21. Are there non-uniform and dress-up days?
We do run, about once a term, a 'mufti day' when you are given the chance to come to school in your own clothes. These are often
associated with a fund raising initiative for the many different charities that we support so you may be asked wear something associated with a particular charity and for a small donation for that charity.
22. Will I get House Points or Merits in Year 7?
If you do a great piece of work or a teacher thinks you have been really kind or helpful, they will give you a merit. These are recorded for you and also recorded as points for your House and if you get a certain number of merits, your name will be called out in assembly and you will get a certificate. All of the House points achieved by individual pupils in this way are added to those points won by the House in various competitions and the House Trophy is then awarded at the end of each term and finally at the end of the school year to the top House.
23. What happens if I do something wrong?
We will do our very best to try to help you not to do things wrong but these things do happen. If you have done something wrong, we will try to talk to you to find out why this has happened and then advise you on how to avoid getting into trouble again. We are
understanding and aware that everyone makes mistakes, but if you do something serious you will be given a detention. We all make mistakes from time to time but it is how you deal with those mistakes and what you learn from them that is the most important and we are here to help you to overcome them and learn from them.
24. Can I bring a mobile phone to school?
You may bring your mobile phone into school but you must hand it in at reception before you go to registration where it will be kept secure until the end of the day for you to collect and take home.
25. How do I make friends?
Try to smile lots and be interested in other people. Just be yourself and take your time to get to know others. Try as many lunchtime and after school activities as possible and get involved in as much as you can. You will make friends very quickly by doing that and remember you are coming to a very friendly school. MTGS girls are full of fun and kind too so do not worry!
Safeguarding
Acting as Pastoral Leader for Year 11 is a new and exciting challenge. I was Head of Sixth Form at MTGS for five years and this role gave me a wealth of experience in terms of helping prepare pupils for external examinations; ensuring that they have the resilience to cope with what can be a stressful time and allowing them to make a successful transition to the next stage of their educational journey. I am the Designated Safeguarding Lead at MTGS and have recently completed Level 3 training in this area. I am also responsible for tracking pupil progress across the school.
Mr F Lawell – Designated Safeguarding Lead & Director of Pupil Development & Progress
Wellbeing
Mrs N Houghton – Head of Wellbeing
I have worked at Merchant Taylors' Girls' School for thirteen years and this will be my second year in a new role as Head of Wellbeing. I am also the Pastoral Leader for Year 10. Wellbeing is more than health and happiness, and I work closely with the other members of the pastoral team to help to make a difference to our pupils, so that they meet their full potential academically, emotionally and socially. I have a Level 2 qualification in Counselling and have also completed Level 3 Safeguarding training.
Mrs N Houghton – Head of Wellbeing
Counselling
Hello, my name is Lyndsey and I am your school counsellor at Merchant Taylors.
Counselling offers students the opportunity to have a confidential space to discuss and explore any worries, fears, self confidence/esteem, relationships and who they think they are or want to be amongst many, many other reasons.
Students can be referred by teachers, by parents or can self-refer without seeking parental consent. However, if to be referred by a teacher or parent you must feel that counselling is something that you want to try because it will never be forced on you. It's really very simple to access, all you need do is email me: [email protected] and I will send you a couple of forms to fill in so that we can then start sessions, which will run once a week, in the school day and will be rotated so that you do not miss the same class every week.
Lastly, the staff at Merchant Taylors' are sincere in their efforts to support you as holistically as possible – academically, socially, emotionally and mentally and we welcome feedback with regards how best to do this.
I genuinely look forward to meeting and seeing you around school and hope that your transition is as joyful as can be.
Learning Support
We aim to provide a caring and supportive environment for our pupils who may have additional needs and believe each of our girls has the ability to succeed and achieve in all aspects of life.
It is our job to support you in your journey, by recognising your strengths and building independence and confidence, whilst promoting your well-being.
During your school day, I am here to ensure all teachers understand and provide support for you in the classroom and by providing Learning Support Lessons to help with any aspect of your learning. Most importantly, I am always available if you have any concerns or worries regarding your learning.
Mrs K Howard – Learning Support
Headgirl Team
House Captains
When you join MTGS you will be placed into one of the three houses – Minerva, Thalia or Gaia, you will be in this house for the duration of your time at MTGS. You will have the opportunity to represent your house in a variety of events and comps. These will include sport, music, drama as well as a host of other subject related inter-house competitions. Being part of a house will enable to you develop good links and social interactions with girls across different year groups, bonded together by your allegiance to your house name and colour. If you are in Minerva your Goddess is the Goddess of wisdom and strategy and your house colour is blue. If you are in Thalia your goddess is the goddess of comedy and joy and your house colour is red. If your in Gaia your goddess is the goddess of mother nature and your house colour is green.
Here are your house captains for 2020/21 and they have done a short intro video for you:
Emily Jones – Minerva House Captain
Hi my name is Emily Jones and I am Captain of Minerva House. Minerva is the Goddess of Wisdom and Strategy and her symbol is in the shape of an owl. Our House colour is blue and Minerva was a gracious winner in war, so we focus on having good sportsmanship when it comes to a competition. I really hope you may be in my House and demonstrate that you have the good judgement and clever planning that epitomises the girls in Minerva house! I look forward to hopefully seeing you in Minerva House in September.
Lily McCaughrean – Thalia House Captain
Hi my name is Lili McCaughrean and I am Captain of the Thalia House. Thalia is the Goddess of Comedy and Joy, our House colour is red. I really hope you may be in my House and demonstrate that you have the light heartedness and wit that epitomise Thalia girls! I look forward to hopefully seeing you in Thalia House in September.
Mollie Jones – Gaia House Captain
Hi! My name is Mollie and I am your Gaia house captain! I can't wait to get to know you all and I'm sure you will all make our house fun and friendly. 'Gaia' means the 'mother of all life' and she is often seen holding the earth- which relates to why our colour is green. I'm so excited to see you all next year!
School Games Captain
Hi I am Maisie Lavelle, your Games Captain and I would love to try and get as many of you involved in sport at school as possible. There are so many amazing opportunities and different sports on offer. It is also a great way to meet new girls in different forms!
Maisie Lavelle – School Games Captain
School Drama Captain
Hi I am Cara Ellis and I am your Drama Captain! I want all of you to feel welcome in the Drama department, no matter how talented or confident you think you are, it is all about having fun and putting on great productions for the school! One of the best parts is making friends with girls and boys from across the whole school and building that confidence within yourself. I hope to see all of you getting involved with us whether that is backstage or on stage, everyone is welcome!
Cara Ellis – School Drama Captain
School Music Captain
Hi I am Freya Cumine, your Music Captain and I hope that many of you will get involved in music. There are so many amazing opportunities such as concerts and tours as well as different ensembles/clubs on offer. It is also a great way to gain new skills and meet girls in different forms and in different year groups too!
Freya Cumine – School Music Captain
Additional Information