Diamond Model of Learning
The Merchant Taylors' family comprises four distinct but intertwined areas of education. Our strength is in our unity.
Over the course of the next five years, we will move fully into a Diamond Learning Model of education, led by an Executive Head. This structure means boys and girls are educated together from Reception to Year 6 and come together again in Sixth Form (Year 12 & 13). From Year 7 to Year 11, they are taught in single-sex senior schools.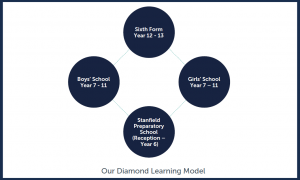 Stanfield Preparatory School, Merchant Taylors' (Reception–Year 6)
Stanfield Preparatory School, Merchant Taylors' is a happy, friendly school where young minds are encouraged to explore and be inquisitive, unafraid to make and learn from mistakes. Our contemporary facilities, excellent teaching staff and smaller class sizes allow us to bring the very best out of every girl and boy. A wide-ranging programme of enrichment and extra-curricular activities helps to bring out the very best in every child, all delivered in contemporary, vibrant learning environment.
Our children are gently nurtured in a secure, contemporary environment, where they spend their formative years exploring their independence
and creativity. We encourage them to develop the confidence and resilience to take risks, try new things and be the best they can be. We delight in seeing our children develop their personalities and build new relationships.
Merchant Taylors' Boys' School (Year 7-11)
At Merchant Taylors' Boys' School, we aim to develop well-educated, well-rounded and caring young men who will play a significant role in society. Each of our boys is academically able and we seek to nurture in them a spirit of inquiry and curiosity which will see them explore their chosen interests, whatever those may be. They are guided by committed, enthusiastic and inspiring teachers who have strong subject specialist knowledge – a key factor in developing students to their fullest extent.
We aim to produce well-educated, well-rounded and caring young men who will play a significant role in society. They will become good men, good husbands and good fathers; they will be good team members as well as leaders; above all, they will seek to be a positive influence wherever they find themselves. We have high expectations of our boys, which we expect them to share.
Merchant Taylors' Girls' School (Year 7-11)
At Merchant Taylors' Girls' School, we encourage our girls to achieve excellence together in a caring and dynamic learning environment. We are proud of our record of academic attainment, but we remain focused on the wellbeing and individual needs of each and every girl in our care, helping them to expand their horizons and understand just how incredible they can be.
Girls are encouraged to be ambitious, to develop at a pace that is right for their own talents and needs. We encourage girls to have the character and confidence to take risks and try new ways of improving what they do. It is important to us that we help to raise confident, independent young women who are equipped to face the challenges of the modern world and are well-placed to enjoy fulfilling, successful lives beyond school. Central to all of this is a girl's happiness and her ability to be comfortable in her own skin and we support this careful development through the provision of excellent pastoral care.
Merchant Taylors' Sixth Form (Boys & Girls, Year 12-13)
A new co-educational Sixth Form is to be created from September 2024. Our Sixth Form model already involves a blend of single sex and co-educational experience for our A Level students – this will continue and expand towards the Sixth Form becoming fully coeducational by September 2024. This will be underpinned by the development of new, contemporary Sixth Form facilities.