The School Shop
The School Shop is situated at 138 College Road, Crosby, Liverpool L23 3DP.
Telephone number: 0151 924 0975
You can also order from our online shop at Monkhouse.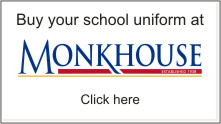 General opening hours are:
Monday, Wednesday, Friday: 9.00am – 5.00pm
Saturday: 9.30am – 12.30pm
These are subject to change during school holidays.
Summer 2019 Opening Hours from Monday 29th July:
Monday, Tuesday, Wednesday, Friday – 9.00-5.00pm
Saturday – 9.30am-3.30pm
On Saturday 7th September 2019, opening times will revert back to normal.
Please contact Monkhouse for further information and pricing.