Magical Merchants'
We invite all budding Wizards and Witches in Years 3-6 to join us for a magical evening at Merchant Taylors' on Wednesday 9 February 2022.
This thrilling event is open to both pupils of Merchant Taylors' and other schools and children will learn to brew their own potions, discover magical history, create their own magical creature plus much more! Places are limited for this free event, please register for your child's place below.
Year 3: FULLY BOOKED
Year 4: FULLY BOOKED
Year 5: FULLY BOOKED
Year 6: FULLY BOOKED
THIS EVENT IS NOW FULLY BOOKED
If you would like to join our waiting list please contact Mrs Debbie Roberts by emailing [email protected] or by calling 0151 949 9366.
Dress code: Wizarding robes, magical fancy dress or comfortable clothes.
Year 3 & 4 (Boys & Girls): 4.30pm (registration) – 6.00pm at Merchant Taylors' Boys' School
Year 5 & 6 (Boys & Girls): 4.30-4.45pm (registration) – 6.30pm at Merchant Taylors' Girls' School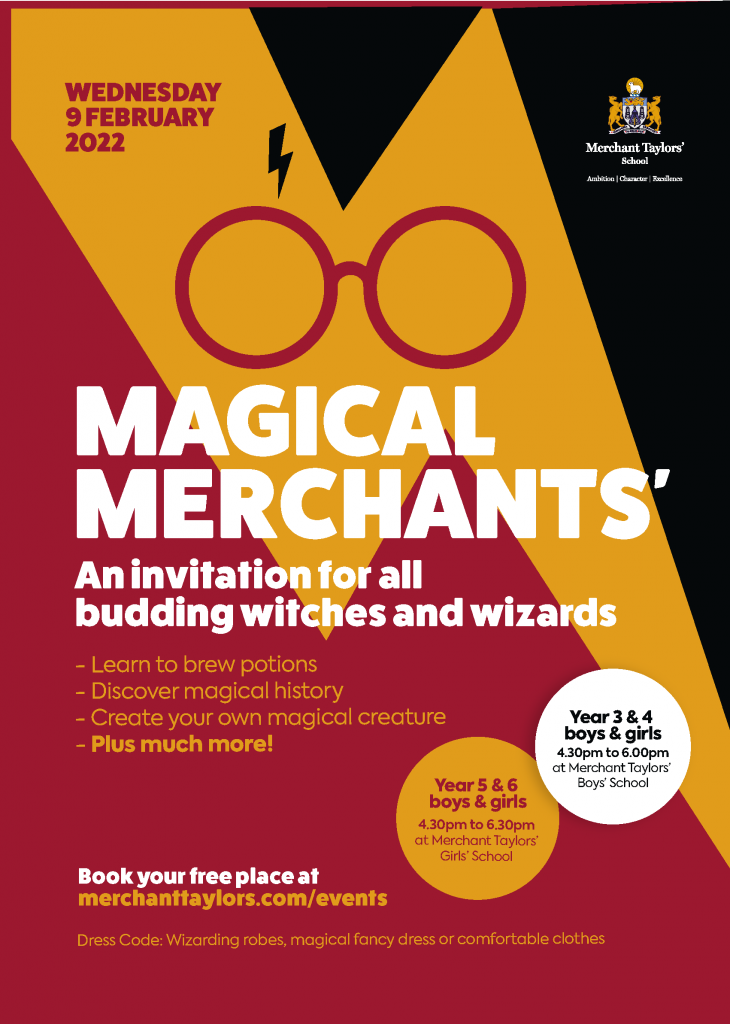 iCal Export
We use cookies on our website to give you the most relevant experience by remembering your preferences and repeat visits. By clicking "Accept All", you consent to the use of ALL the cookies. However, you may visit "Cookie Settings" to provide a controlled consent.
Privacy Overview
This website uses cookies to improve your experience while you navigate through the website. Out of these, the cookies that are categorized as necessary are stored on your browser as they are essential for the working of basic functionalities of the website. We also use third-party cookies that help us analyze and understand how you use this website. These cookies will be stored in your browser only with your consent. You also have the option to opt-out of these cookies. But opting out of some of these cookies may affect your browsing experience.