Senior Boys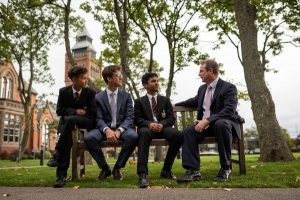 Welcome to Merchant Taylors' Boys' School (MTBS). Thank you for taking the time to be interested in what we do.
At MTBS, we aim to develop well-educated, well-rounded and caring young men who will play a significant role in society. They will become good men; they will be good team members as well as leaders; above all, they will seek to be a positive influence wherever they find themselves.
Alongside the rigorous academic curriculum, we offer an abundance of other opportunities. Whether it is on the stage, in the concert hall, on the sports field or working in the community, our young men have the chance to grow in areas outside of the classroom. Our committed and inspiring teachers seek to nurture a spirit of inquiry and curiosity in all our students, helping them to develop to their fullest extent. At the same time, this is a warm, caring community where people look out for one another.
I believe that our school is a happy, vibrant place, full of energy and enthusiasm. It is filled with aspiring and ambitious people who want to make the most of themselves and help those around them do the same. I very much hope that you will come to visit us, to see for yourselves, what makes Merchant Taylors' such a special place.
Mr David Wickes
Headmaster