Welcome to Merchant Taylors' Boys' School. My ambition for boys here is that they will be happy, successful and respectful, whilst being challenged, supported and nurtured.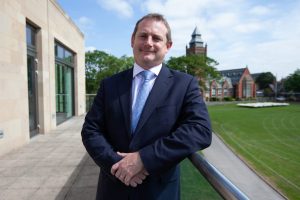 Boys, staff and parents are proud of our School. It is a School with a long history and a very bright future. Merchant Taylors' Boys' School is a selective day school, with boys from Years 7 to 13. We offer a curriculum, pastoral care and extra-curricular activities which are specifically tailored to boys. However, the fact that we are able to do this alongside Merchant Taylors' Girls', Junior Boys' and Primary School, means that boys can benefit from being with us throughout their educational life and whilst enjoying an education within a family of schools.
The School has a very friendly feel which you have to experience to understand fully. Walking around the site of a lunchtime, you are just as likely to find a group of boys reading together or playing chess as you are to see boys kicking a football around or working out in the gym. Many boys use the lunchtime as an opportunity to avail themselves of subject specific advice in one of the multitude of academic clinics which take place throughout the week. There is also a host of organised lunchtime activities, from music and drama to running club and rugby training.
Pastoral care is something which is essential to the development of boys into good men and it is an aspect of the School which is taken very seriously. Specialist Form Tutors, Heads of Year and Group Tutors encourage and nurture the boys in their care, working alongside other staff and the boy's family. We also have a qualified School Nurse and a student counsellor, both of whom can offer specific support. A glance at our most recent inspection report will confirm our commitment to this aspect of our educational provision.
Our class sizes are relatively small and lessons are led by teachers who are subject specialists. Boys will discover and develop their love of learning, experiencing the perfect balance between challenge and support. We have developed an innovative approach to teaching and assessment in Years 7 – 9 which engages boys' curiosity and involvement, whilst also providing a very firm foundation for success in external examinations later in life. Our GCSE and A Level results are amongst the best in the area.
I hope that you enjoy browsing our website – there is a host of information here that you will find useful. However, the only way to get to know the school and all that it has to offer is to pay us a visit. For details of our next open events please click here or you can contact our Admissions Team on: 0151 949 9366 or email admissions@merchanttaylors.com. I look forward to meeting you.
Mr David Wickes
Headmaster