24 Doors of Merchants' – Day 8
Door 8 was of course the Armour Building at the Boys' School!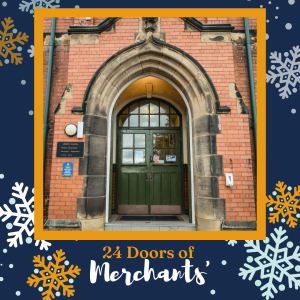 In 1913, Canon Armour, who had retired in 1903, came back to the school to open the Armour Building. These two photographs were taken at the time of the opening.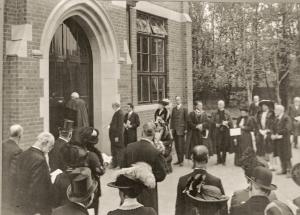 The photograph above shows Canon Armour attempting to unlock the main door using a golden key that had been presented to him for this purpose. The story is told that this key [being soft] bent and would not unlock the door. Consequently a small boy called Joe Reaney was inserted through a toilet window with a steel key and unlocked the door from the inside!
The second photograph shows the boys of the school dutifully waiting on the small patch of grass outside the lodge with the hooded and gowned staff standing behind them. The younger boys are still wearing Eton collars and caps but the jackets are not "uniform" blazers and badges are absent.