24 Doors of Merchants' – Day 11
Today's door was of course the Pavilion located at the Boys' School!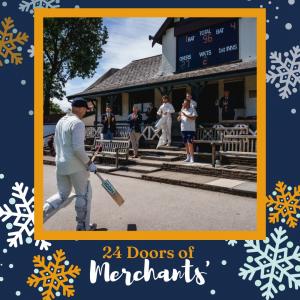 The origins of MTS cricket are largely lost in the mists of time. It is known that the headmaster of the day bought some land in 1854 which was intended for use for school cricket and the move to the new site in 1878 boosted interest in the sport.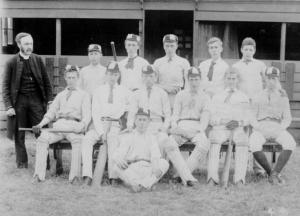 The earliest fixture list in the archive collection dates from 1883 but the earliest cricket team photograph, shown here, was taken in 1886. It was presented to the school by Rev P W Pheysey who was captain of the team in that, his final, year.
The Reverend gentleman on the far left is Frederick Finnis Grensted who had become Senior Master in 1882 and was one of the Vice Presidents of the Cricket Club.
The Captain is Percy Wootton Pheysey who was later ordained and became Chaplain to the Bishop of Liverpool. He was followed as captain by E W Lovegrove who went on to be a headmaster at a number of schools including Ruthin.