24 Doors of Merchants' – Day 4
Well done if you got it right – Day Four's door and corridor is one of the most recognizable spaces at the Girls' school, connecting the main entrance to the dining room, passing the offices, biology lab 3 and the magnificent staircase!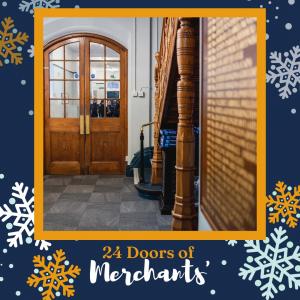 The carvings on the stairwell with the clearly defined B on the newel post give an indication of the splendour of the property that was once "The Mulberries". The B stands for Boulsfield; Michael and Catherine Bousfield were extremely prosperous cotton merchants in the 1860s.
On Catherine's death in 1907, the building was sold to the Merchant Taylors' Company for £3,500 who incorporated it into the Girls' school. There is a large brass plaque by the school office to this effect.