24 Doors of Merchants' – Day 7
You'll find Day Seven's door ahead of you as you access the winding stairs from the lower to the upper library at the Girls' School.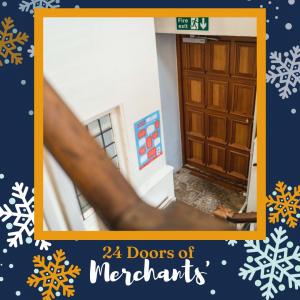 Just outside it, there are names carved into it from previous generations of schoolboys, some dating from the 1760's and several from the 1800's. The reasons for these are not entirely clear and some have been carved with great care.
However as we all know no Merchant Taylors' girl would ever dream of defacing her school building so why the much later set of initials?
We are very proud to have been the only school in Merseyside who in the Summer of 1914 in the run up to the Great War billeted soldiers. WB was, therefore, an officer of the 3rd Battalion South Lancashire Regiment who was briefly stationed here, the men being in tents at Sniggery Woods in Little Crosby before moving further up the coast to Barrow-in-Furness. The commanding officer even presented the prizes at the December 1914 prize giving. The Regiment was so grateful that they contributed the Sniggery Woods Scholarship for several years as a thank you – local girls were eligible for this.