24 Doors of Merchants' – Day 24
Our final doors were of course the Clock Tower doors, which are among the most iconic parts of the school, and the perfect place to close our advent calendar for the year!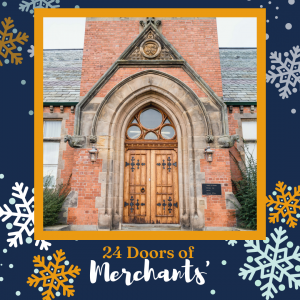 They provide the backdrop for many a Merchants photo, including this rugby team photo form 1886, widely thought to show the mauve and light blue rugby kit that inspired the Barcelona kit.
In his book "Barça", Jimmy Burns quotes from a letter written by the then headmaster H M Luft in which he says:
"I think it very likely that the present colours of Football Club Barcelona [maroon and blue] are ultimately derived from our original colours here. The Waterloo Rugby Club was founded by two of our Old Boys, the Hall brothers, and in 1882, the club was given the colours of dark blue and red stripes.