CCF Inspection Day
We look forward to welcoming cadets and their families to the 106th annual Combined Cadet Force (CCF) Inspection Day.
Senior professionals from the RAF, Army and the Royal Navy will visit school for the day as part of a formal inspection of the School's Guard of Honour and a review of its cadet activities and performances.
Merchant Taylors' Combined Cadet Force was founded in 1915, a year after the outbreak of the First World War, and is one of the largest contingents in the country. Participation in the CCF is entirely voluntary and is enjoyed by boys and girls in almost equal number from Year 9.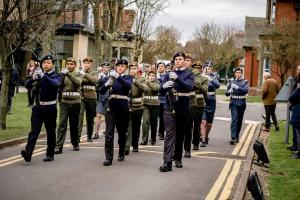 iCal Export
We use cookies on our website to give you the most relevant experience by remembering your preferences and repeat visits. By clicking "Accept All", you consent to the use of ALL the cookies. However, you may visit "Cookie Settings" to provide a controlled consent.
Privacy Overview
This website uses cookies to improve your experience while you navigate through the website. Out of these, the cookies that are categorized as necessary are stored on your browser as they are essential for the working of basic functionalities of the website. We also use third-party cookies that help us analyze and understand how you use this website. These cookies will be stored in your browser only with your consent. You also have the option to opt-out of these cookies. But opting out of some of these cookies may affect your browsing experience.