Merchants' Talks: In Conversation with Jamie Carragher
Join us on Thursday 9 March 2023 for Merchants Talks': In Conversation with Jamie Carragher.
We are delighted to welcome Jamie Carragher to Merchant Taylors' for a live edition of Merchants' Talks. Jamie is a former footballer who played as a defender for Premier League club, Liverpool for an impressive seventeen years, winning honours including two FA Cups, three League Cups, two Community Shields, two Super Cups, one UEFA Cup and an unforgettable victory in the Champions League in 2005. Carragher is the club's second-longest ever serving player, making 737 appearances in all competitions and also gained 38 England caps, representing his country in the 2004 European Championships as well as the 2006 and 2010 FIFA World Cup.
Jamie will be joined by his son James, a former Merchant Taylors' pupil who is currently playing for Oldham Athletic in the National League, on loan from EFL Championship side Wigan Athletic. The pair will be covering a number of topics throughout the discussion including mentality, having a will to win, the role of education in a footballer's life plus much more, as well as taking questions from the audience.
Tickets are £10 for adults and £7.50 for concessions (Under 16s & Over 65s) and all money from ticket sales will go towards the school's Bursary fund.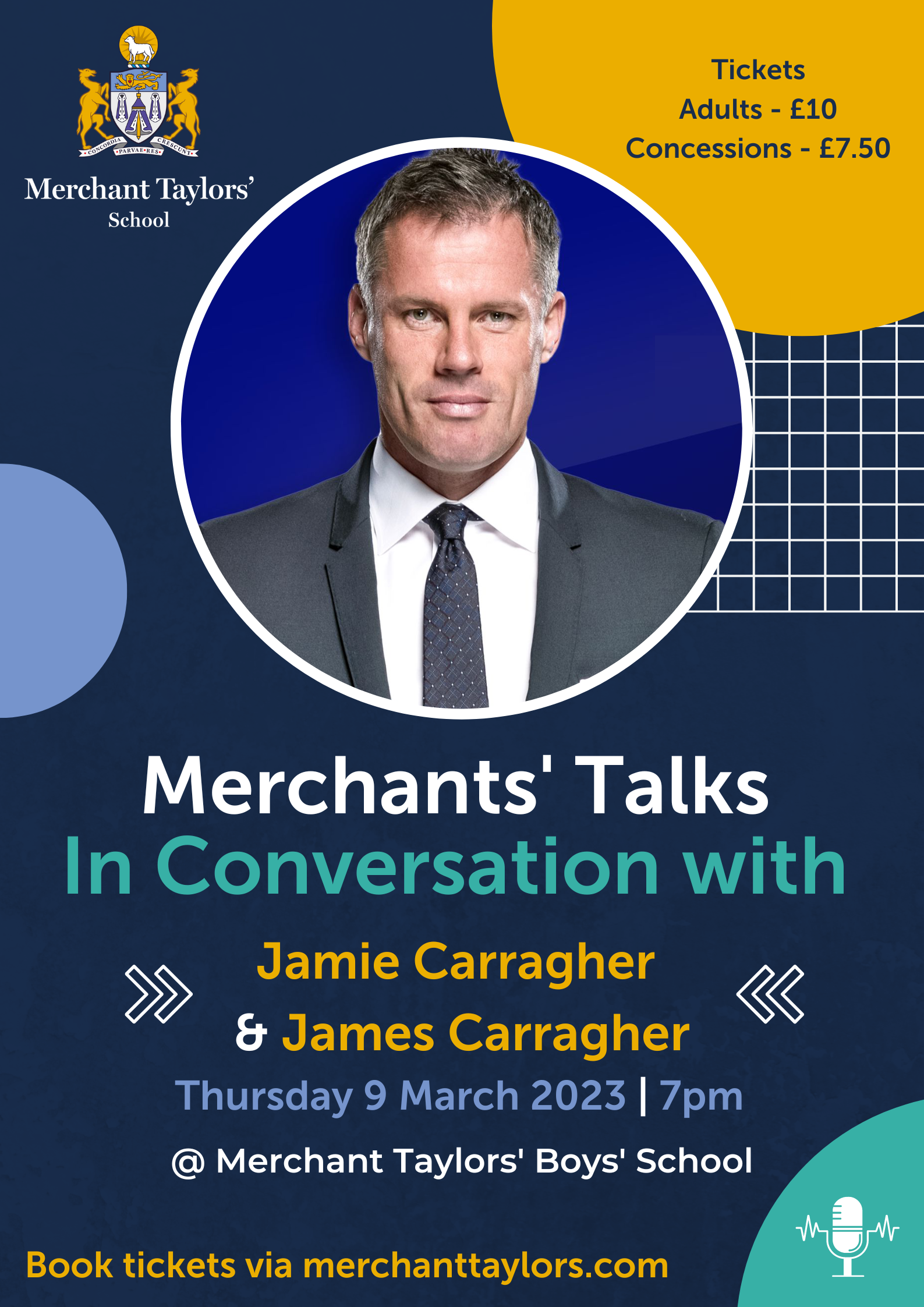 iCal Export
We use cookies on our website to give you the most relevant experience by remembering your preferences and repeat visits. By clicking "Accept All", you consent to the use of ALL the cookies. However, you may visit "Cookie Settings" to provide a controlled consent.
Privacy Overview
This website uses cookies to improve your experience while you navigate through the website. Out of these, the cookies that are categorized as necessary are stored on your browser as they are essential for the working of basic functionalities of the website. We also use third-party cookies that help us analyze and understand how you use this website. These cookies will be stored in your browser only with your consent. You also have the option to opt-out of these cookies. But opting out of some of these cookies may affect your browsing experience.