NHS Careers – So Much More
Are you in Year 11 or 12? Are you considering a medical related career? Join Admissions Tutors from the School of Health Sciences at the University of Liverpool for an evening discussing NHS careers on Wednesday 26 January 2022 in the Williams Hall, Merchant Taylors' Boys' School at 5pm-7pm.
No matter which medical career you are potentially interested in, the evening will provide a wealth of information surrounding working within the NHS and allow attendees to see what different services are available and the various professions and career paths open to them within medical related fields.
This event is free and open to all Year 11 and 12s from any school to attend. We are delighted to be joined by:
Rebecca Rylance – School Admissions Lead
Danny Blair – Radiotherapy
Sam Pullan – Nursing
Chris Edge – Occupational Therapy
Ashli Milling – Orthoptics
Book your place by clicking HERE.
This event is subject to change due to Covid19 protocols. Pupils are asked to bring just 1 family member and a negative LFT is required to attend.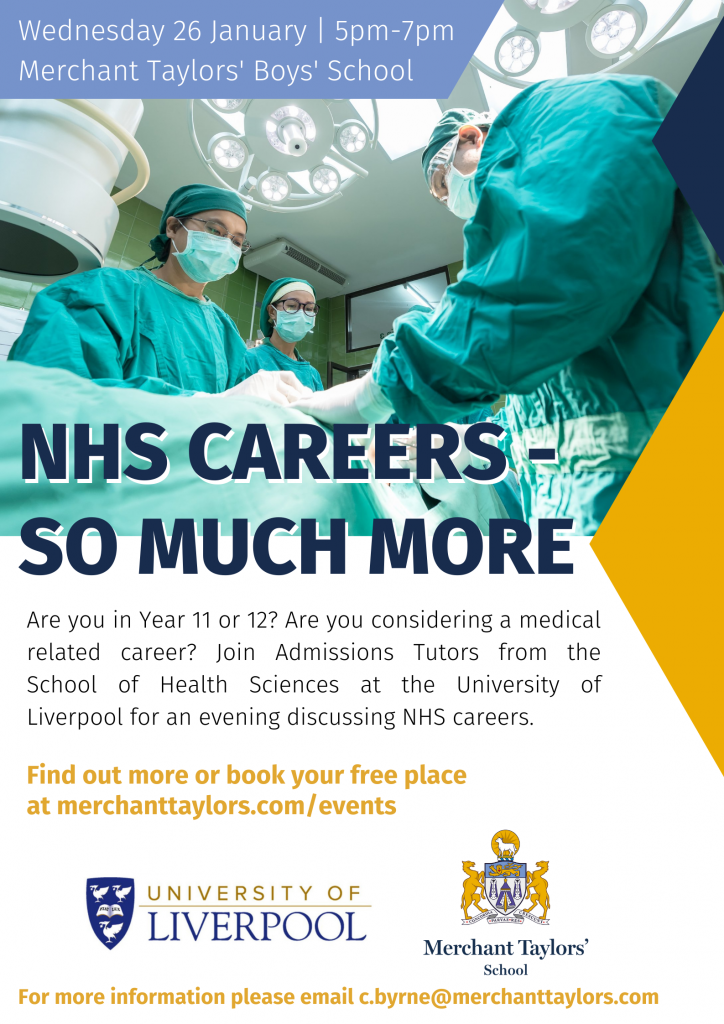 iCal Export
We use cookies on our website to give you the most relevant experience by remembering your preferences and repeat visits. By clicking "Accept All", you consent to the use of ALL the cookies. However, you may visit "Cookie Settings" to provide a controlled consent.
Privacy Overview
This website uses cookies to improve your experience while you navigate through the website. Out of these, the cookies that are categorized as necessary are stored on your browser as they are essential for the working of basic functionalities of the website. We also use third-party cookies that help us analyze and understand how you use this website. These cookies will be stored in your browser only with your consent. You also have the option to opt-out of these cookies. But opting out of some of these cookies may affect your browsing experience.