Art Club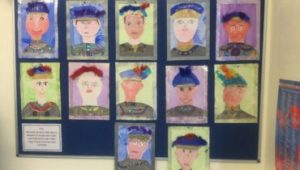 The Art Club is held on Tuesday lunchtime and everyone is assured of a warm welcome.
We aim to provide a relaxing environment where children can be as creative as they wish, mess is acceptable and the responsibility to select materials available. The only request is that each child cleans and returns equipment that they have used.
Modelling materials have been highly popular this year and models are displayed and then proudly taken home.
Art club badges introduced this year for the 'regulars' have been very popular too.
We have continued our regular trips to the MTGS Vitreum and boys have been enthusiastic, well behaved and curious.
One of the Art Club members writes…
Art club is a great, great club to go to if you like to use your imagination, because it allows you to make anything you want with the material around you. Over the last few weeks some people have produced some great masterpieces.
Every few weeks Mrs White sends out a letter to everyone in art club to tell them that there is a trip for art clubbers to visit the Vitreum. Parents always say that we can go, so we do and we really enjoy the outing.
After you've been to art club long enough to be a 'regular' you receive a green art badge.
Overall Art Club is a great club to go to.
If you want to try something new in Art Club why not recommend it to Mrs.White? She likes new ideas.