Swimming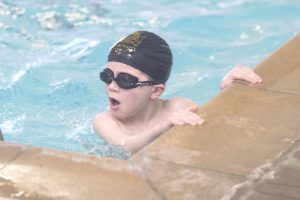 We are fortunate to have our own 25-metre by 10-metre 4-lane swimming pool here on our school site, which is shared between all four Merchant Taylors' Schools. We take great pride in our swimming squad and have done so for quite some time.
All squad members are encouraged to commit to attend both training sessions, Tuesday lunchtime and Wednesday afternoon after school. Our swimming training is often quite challenging, even for the strongest of swimmers. Training takes place all year round and boys usually find an improved level of fitness, flexibility and strength helps them to achieve and excel at other sports.
Regular swimming galas against other schools in the Northwest Cheshire and Greater Manchester areas take place between September and April on either a Monday or a Tuesday after school.
Our team usually has three age groups U9, U10 and U11 with A and B Swimmers. A full team would normally consist of 24-30 swimmers so our strength in depth is a key factor.
---
THE MERCHANT TAYLORS SCHOOLS SWIMMING CLUB (MTSSC)
The MTSSC is the official school swimming club managed and delivered by Merchant Taylors' Schools. The club focuses on learning to swim improving each swimmer's development up to competition standard. The club is delivered by a highly trained, qualified and experienced team of sports coaches led by a leading City coach. Please contact Sports Centre Manager Joe Coombes (j.coombes@merchanttaylors.com) if you have any queries, would like more information or would like to become a member.