OC Joe wins prestigious USA Rugby prize
Congratulations to Old Crosbeian Joe Sharrock, who was won a prestigious rugby tournament in the United States.
Joe, who left school in 2021, is part of the rugby programme at The Mount St Mary's University in Emmitsburg, Maryland and played a pivotal role in his side winning the Men's Premier title at the National Collegiate Rugby 7s Championship, defeating top-seeds Indiana.
He recently returned to school, where he caught up with Mr Weare, who oversaw his rugby development at Merchant Taylors'.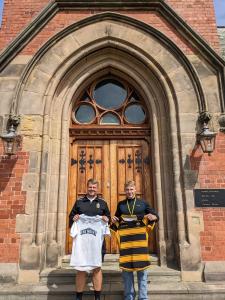 Mr Weare said: "Joe joined the rugby programme at Merchant Taylors' in Year 7 and through his time at school he developed his rugby skills and became an important part of the various teams through the age groups. He joined Firwood Waterloo FC, where he accelerated his development and began to shine for both the school and club.
"Having moved to America, Joe is clearly thriving in his new environment and has shifted his talents to the 7s team where he uses his work rate and power to be an effective player for The Mount. Credit goes to Joe, Jay Myles (Director of Rugby) and the rest of the team for this monumental win, in which they were seen as the underdogs throughout the whole tournament."
We use cookies on our website to give you the most relevant experience by remembering your preferences and repeat visits. By clicking "Accept All", you consent to the use of ALL the cookies. However, you may visit "Cookie Settings" to provide a controlled consent.
Privacy Overview
This website uses cookies to improve your experience while you navigate through the website. Out of these, the cookies that are categorized as necessary are stored on your browser as they are essential for the working of basic functionalities of the website. We also use third-party cookies that help us analyze and understand how you use this website. These cookies will be stored in your browser only with your consent. You also have the option to opt-out of these cookies. But opting out of some of these cookies may affect your browsing experience.