To book your place for Visiting Morning Friday 15th June please
click here
We still have some places in most year groups for September 2018 entry.
Should you be interested in applying for your child and would like to make an appointment to meet with one of our Heads, please contact our
Admissions Team: 0151 949 9366.
Below are a list of upcoming events for parents and pupils to visit and experience Merchant Taylors' Schools.
Saturday Smarties
To book please click here.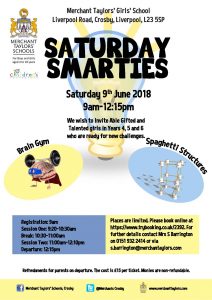 Visiting Morning
Friday 15th June – 9.15am-12pm
To book your tour please click here.
An opportunity for families to visit Merchant Taylors' Schools whilst we are in session.
Year 5 Taster Day
Friday 29th June 10am-3pm
To book a Taster Day please click here.
An opportunity for Year 5 boys and girls from any school to spend a day at Merchant Taylors' Senior Boys' School or Merchant Taylors' Senior Girls' School. There will be fun lessons and activities, with lunch provided. Free admission.
We provide 'The Best Education for Life' for Boys and Girls aged 4 to 18 years.
Contact the Admissions Team