Miss Elizabeth Lynan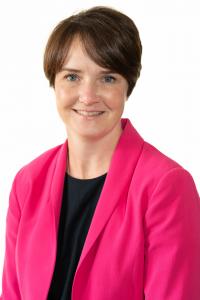 Elizabeth joined Merchant Taylors' as Deputy Head Teacher in 2015, and in January 2019 was appointed Acting Head at Stanfield in its previous structure of a Co-Educational Infant School and a Junior School for Girls. In 2020 Elizabeth was appointed as Head of the newly formed co-educational school at Stanfield.
A history graduate from Durham University, with a Postgraduate Certificate in specialist primary mathematics, and an alumnus of St. Hilda's School, Liverpool, Elizabeth began working life in banking. Her first academic role was at Runnymede, St Edward's, Liverpool, where she spent four years as a teacher of infants, before moving to Huyton with Roby CE Primary School, where her roles included PE and Maths Subject Lead as well as Key Stage 2 Leader.
In her spare time Elizabeth enjoys being outdoors with her golden retriever dog, either walking or running and, in the past, has completed several road marathons as well as multi-terrain events.  More relaxing interests include gardening and reading.
We use cookies on our website to give you the most relevant experience by remembering your preferences and repeat visits. By clicking "Accept All", you consent to the use of ALL the cookies. However, you may visit "Cookie Settings" to provide a controlled consent.
Privacy Overview
This website uses cookies to improve your experience while you navigate through the website. Out of these, the cookies that are categorized as necessary are stored on your browser as they are essential for the working of basic functionalities of the website. We also use third-party cookies that help us analyze and understand how you use this website. These cookies will be stored in your browser only with your consent. You also have the option to opt-out of these cookies. But opting out of some of these cookies may affect your browsing experience.