Elizabeth to lead new chapter at Merchant Taylors' Stanfield
Merchant Taylors' School is delighted to announce the appointment of Elizabeth Lynan as the new Head Teacher of Stanfield Primary School.
Elizabeth joined Merchant Taylors' as Deputy Head Teacher five years ago, and in January 2019 was appointed Acting Head at Stanfield in its previous structure of a co-educational infant school and a junior school for girls.
A history graduate from Durham University, with a Postgraduate Certificate in specialist primary mathematics, and an alumnus of St Hilda's School, Liverpool, Elizabeth began her working life in banking. Her first academic role was at Runnymede St Edward's, where she spent four years as a teacher, before moving to Huyton with Roby CE Primary School for ten years.
Beverley Bell, chair of governors at Merchant Taylors' School, said: "The new-look Stanfield is now beginning to take shape, with plans moving ahead for various estate upgrades, including major enhancements to the playground area, and our excellent team are making detailed preparations for the transition to a co-educational learning environment.
"Elizabeth has been a highly respected member of the Merchant Taylors' team over many years now and we are delighted she will be at the helm as the school moves forward towards a new, exciting chapter."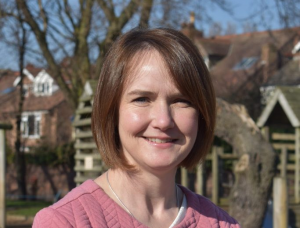 Speaking of her appointment, Elizabeth said: "Very few people are able to say they have achieved their dream job, but I am now in that happy minority. I am absolutely thrilled to be given the opportunity to lead a fantastic team of staff in creating a dynamic and successful school environment for our pupils.
"Across Merchant Taylors', children are encouraged to be brave and inquisitive; to achieve success but also to make mistakes and learn from them. This will be the basis of every child's education at the new Stanfield as they begin their journey through the school.
"Of course, the role is not without its challenges and these are unsettling times for many of our families, staff and our wider school community. Now more than ever, we need to come together, look after one another and demonstrate the true strength of the Merchant Taylors' family."
The Board of Governors can also confirm that Elizabeth will assume responsibility for the Junior Boys' School for the remainder of this term. Tom Roberts will remain Acting Deputy Head at Merchant Taylors' Primary School until September 1 and we are thankful for his excellent work and continued support.
The school is also thrilled to announce the appointment of Yvette Bonfante as the new Deputy Head Teacher of Stanfield Primary School.
Yvette joined Merchant Taylors' ten years ago and has held the role of Deputy Head at the current Junior Boys' School since 2013.
Her appointment is the latest major milestone in the phased creation of a new co-educational primary school for boys and girls over the next three years.
Speaking of her appointment, Yvette said: "I am very much looking forward to working with pupils, parents and staff to deliver an outstanding education for all."
Beverley Bell, chair of governors at Merchant Taylors' School, said: "Yvette is an incredibly talented teacher and senior leader who brings a wealth of experience in the education sector and also within the Merchant Taylors' family and we are delighted to announce her appointment as Deputy Head Teacher.
"Under the energetic guidance of Elizabeth and Yvette, supported by an experienced and creative team of staff, we can see no bounds for the future of the new-look Stanfield and these are very exciting times."
We use cookies on our website to give you the most relevant experience by remembering your preferences and repeat visits. By clicking "Accept All", you consent to the use of ALL the cookies. However, you may visit "Cookie Settings" to provide a controlled consent.
Privacy Overview
This website uses cookies to improve your experience while you navigate through the website. Out of these, the cookies that are categorized as necessary are stored on your browser as they are essential for the working of basic functionalities of the website. We also use third-party cookies that help us analyze and understand how you use this website. These cookies will be stored in your browser only with your consent. You also have the option to opt-out of these cookies. But opting out of some of these cookies may affect your browsing experience.