Magical Maths Ends the Term on a Mind Boggling Puzzle
KS2 children have enjoyed another challenging and fun filled course of Magical Maths with the Professor this term. Further details about the next course will be sent out in the Spring Term.
See what the pupils got up to in their last session below:
Last week we had some Mind Boggling puzzles and super fun games. These things can be so tricky that we had more than a few students asking "is this even possible?!?!"…
They definitely are though. You just have to do a bit of 'Magical Maths' thinking. Here's the lowdown…
Mind Boggling Puzzles and Games Booklet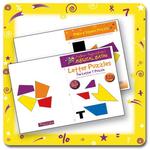 Here's yet another Key Stage 2 puzzle booklet. There is a VERY good reason why we call these mind boggling puzzles. The children solved problems which were capable of boggling even the most capable of minds. All of the Key Stage two children could do them before leaving, hopefully they've boggled you with them (sorry about that).
All students were given a booklet to take home…let us know if you want us to send you another one.

Magic Dice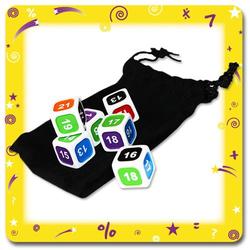 Here is yet another unbelievable mind-reading trick. It is a trick featuring 7 magic dice (not the usual 1-6 dice however, these are extra special dice). A volunteer was asked to adjust all the dice so that the top faces have a different colour, and then they were asked to add up all the top numbers. Before the volunteer had chance to even organise their dice, the person doing the trick was able to give them the answer, in the matter of only a few seconds. Unbelievable!!
Puzzle Sheets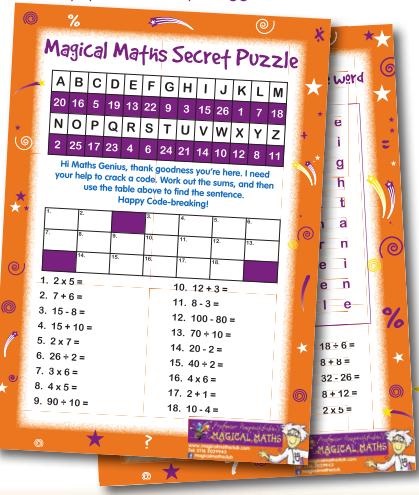 A variety of puzzle sheets matching the mathematics national curriculum (as do all of our activities) including Follow the Trails, Number Name Crossword, Footprints, Number Crosswords and Spellutator, Magical Message, Addition up to 50 and how many fingers wordsearch.  These puzzles are designed to make children think and develop their mathematical abilities while still having fun.
Our final Magical Maths session at your school is over and it really has been an incredible 5 weeks. Professor Poopenshtinken and the gang wish they could go back in time and do it all over again (the Professor's time machine isn't quite ready to go just yet though).
I would love to hear some feedback from yourselves and the children about the club. Would you be able to give me an email back with your thoughts about the club? Did the children enjoy it? We love to read your emails. It helps us to keep the standard of the clubs high and also let us know of any improvements that could be made.
I look forward to receiving your email,
Brian Banks
Head of taking care of sad Magical Maths helpers.
01744776110
We use cookies on our website to give you the most relevant experience by remembering your preferences and repeat visits. By clicking "Accept All", you consent to the use of ALL the cookies. However, you may visit "Cookie Settings" to provide a controlled consent.
Privacy Overview
This website uses cookies to improve your experience while you navigate through the website. Out of these, the cookies that are categorized as necessary are stored on your browser as they are essential for the working of basic functionalities of the website. We also use third-party cookies that help us analyze and understand how you use this website. These cookies will be stored in your browser only with your consent. You also have the option to opt-out of these cookies. But opting out of some of these cookies may affect your browsing experience.