Magical Maths
Following the success of our previous Magical Maths Clubs with Key Stage One, we are pleased that Professor Poopenshtinken and his team have returned to Stanfield this term. Our Year Three and Four classes have enjoyed the opportunity to join this club's exciting and informative sessions.
This week was Mathletics week which meant our Olympic Mathletes were at MTPS. We had a parachute, some beach balls and even some football. It was an unbelievable week!
This week everything was sports related as we took our maths adventures to a whole new level! Our Olympic Mathletes came dressed in their sports gear…these guys are so sporty they make Jess Ennis and Mo Farah look like a pair of pensioners who brought stilettos instead of trainers to a work-out!
A note from Professor Poopenshtinken:
Here's what the children did:
Parachute Games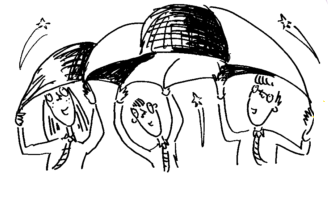 After hearing "parachute games", the children were very relieved to find out they weren't going to be jumping out of a plane this week. (Our 'Magical Maths Plane' is currently undergoing repairs…maybe next time!)
Rather, they'd be holding an edge of our giant parachute and answering maths related questions.
We have many activities that we play with this. The first is numbering the children with certain numbers (these can be small if we want an easier game, or larger for a harder game). We then ask the group questions, and if your number is the answer you must run under the parachute to the other side!
We then add in large foamy dice to make things more interesting, and play a 'number patterns' game where we number the children in a pattern, they close their eyes while one child goes under the parachute, and when they open them they decide as a group which number is missing.
We have quite a variety of activities to make sure they are appropriate for each year group.
Great stuff!
Beach Ball Maths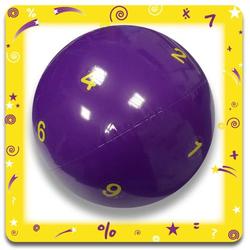 Standing in a circle, a beach ball is thrown into the air. Children must catch it, and then see where their thumbs land on the ball. There are different numbered regions on the ball, so the activity leader will then shout an instruction and the child must answer it.
It could be as simple as "add your numbers together"
or, it could be harder "multiply your numbers together, and subtract the number of legs on a cow"
or, perhaps "subtract your numbers, and name a shape with that many sides"
As always, questions are appropriate for all ages. Reception children get more basic questions than the year twos, and Key Stage 2 get different questions again.
Goal
We had a (foot)ball with this game today! The children have to split into pairs to play a football based board game against each other. They pick teams, roll the dice and have to solve the sum given to them in the top corner of their board. Each correct answer gets them closer to their opponent's goal…and they player with the most goals at the end wins.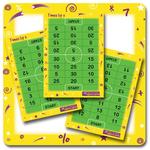 Key Stage 2's must recall and use multiplication facts for the times tables up to 12×12. For those mini maths genius', we have goal boards with multiples of 13, 15, 20 and 50. 
It was a tense game for each year group, but our final winners did mathemagically well. Well done guys!
It was an absolutely cracking week this week  and we are all looking forward to next week. 
If you have any further questions, contact Mrs Bonner at [email protected]
We use cookies on our website to give you the most relevant experience by remembering your preferences and repeat visits. By clicking "Accept All", you consent to the use of ALL the cookies. However, you may visit "Cookie Settings" to provide a controlled consent.
Privacy Overview
This website uses cookies to improve your experience while you navigate through the website. Out of these, the cookies that are categorized as necessary are stored on your browser as they are essential for the working of basic functionalities of the website. We also use third-party cookies that help us analyze and understand how you use this website. These cookies will be stored in your browser only with your consent. You also have the option to opt-out of these cookies. But opting out of some of these cookies may affect your browsing experience.