Merchant Taylors' pupils record excellent GCSE grades once again
Pupils at Merchant Taylors' School have continued the excellent GCSE performance seen in recent years.
There were a number of individual success stories, including Esther Gonzalez-Dominguez, Krishna Gowda, and Aakash Dharmaraj, who all achieved ten grades at the highest level.
At Merchant Taylors' Girls' School, two-thirds of all grades were at level 9 to 7, the equivalent of an A* or A, with particular strengths in Religious Studies, Latin, French and Geography.
At Merchant Taylors' Boys' School, nearly one fifth of grades awarded were at the highest level, while six out of ten grades were at grade 7 or above.
For boys and girls, 40% of all grades were at level 9 to 8 with eight girls and ten boys achieving nine or more grades at level 8 or 9. There were also successes for boys lower down the school, with 29 pupils in Year 10 achieving an 8 or 9 at GCSE Mathematics, alongside Sajay Jeyanathan, who scored a level 9, despite only being in Year 8.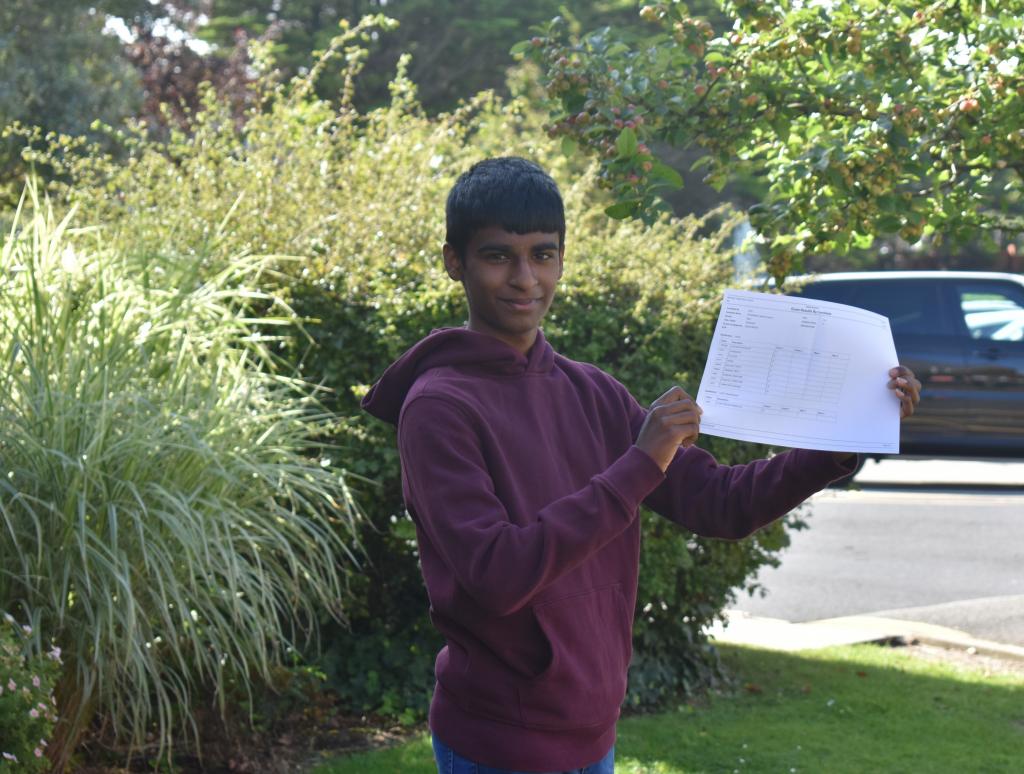 The results come after a tumultuous period of disruption for pupils, who were prevented from sitting exams earlier this year. denied the opportunity to sit exams this year. Nonetheless, they continued to engage in a sustained period of remote and online learning at the school, which saw up to 500 live sessions each day to pupils of all ages at the height of the lockdown period.
Claire Tao, headmistress at Merchant Taylors' Girls' School, said: "In extraordinary circumstances, our girls have demonstrated their commitment to their studies throughout the lockdown period and these results are testament to their abilities. The whole school is proud of their achievements.
"We have seen a consistent level of success across many subject areas, underlined by some remarkable individual performances. As girls move up to our Sixth Form, this level of academic attainment will leave them well-placed to succeed in their A Level studies and beyond."
David Wickes, headmaster at Merchant Taylors' Boys' School, said: "I am proud not only of the boys' grades, but also of their high level of engagement with the pre A Level courses we ran during the summer term, where they were able to share their teachers' passion for new areas of study.
"We have seen a continued increase in boys pursuing creative subjects, such as Art and Design & Technology, sustained success in Maths and Science and high levels of attainment across a range of humanities and languages subjects. I very much hope that these boys can move on to the next stage of their education with the disruption they have experienced well behind them."
We use cookies on our website to give you the most relevant experience by remembering your preferences and repeat visits. By clicking "Accept All", you consent to the use of ALL the cookies. However, you may visit "Cookie Settings" to provide a controlled consent.
Privacy Overview
This website uses cookies to improve your experience while you navigate through the website. Out of these, the cookies that are categorized as necessary are stored on your browser as they are essential for the working of basic functionalities of the website. We also use third-party cookies that help us analyze and understand how you use this website. These cookies will be stored in your browser only with your consent. You also have the option to opt-out of these cookies. But opting out of some of these cookies may affect your browsing experience.