Time & Space Event
We welcomed back Bill Jennings and his company Time & Space to provide though-provoking and conversation-inducing sessions for boys in Year 7 and their Mums and boys in Year 8 and their Dads.
Bill presented to us in person last year, in the Williams Hall. Our families found his advice and guidance to be extremely helpful, so we were keen for him to visit us again this year. Unfortunately, the Coronavirus pandemic has prevented Bill from travelling from his native Melbourne, Australia. However, thanks to the wonders of the internet and a reliable alarm clock in his house, Bill was able to run sessions this week from his shed at home.
Across two evenings, 110 members of the Merchant Taylors community (boys and parents) were encouraged to have more open, regular and empathetic conversations with each other. Sessions were conducted via Zoom meetings with plenary presentations interspersed with more intimate conversations in breakout rooms. Senior pupils were on hand to facilitate these discussions and lead some of the activities.
Boys and their parents had to bring a treasure to share with each other – something which represents the importance of the relationship between them. Items as diverse as a pair of football boots, family photographs, baby clothes and stuffed toys were all present, each uniquely poignant and every one evoking memories and emotions which propelled those present to have important and honest discourse. I am sure that many of these conversations may never have happened otherwise.
Despite the remote nature of the presentation the evenings were a huge success, and we look forward to working with Bill again in the future.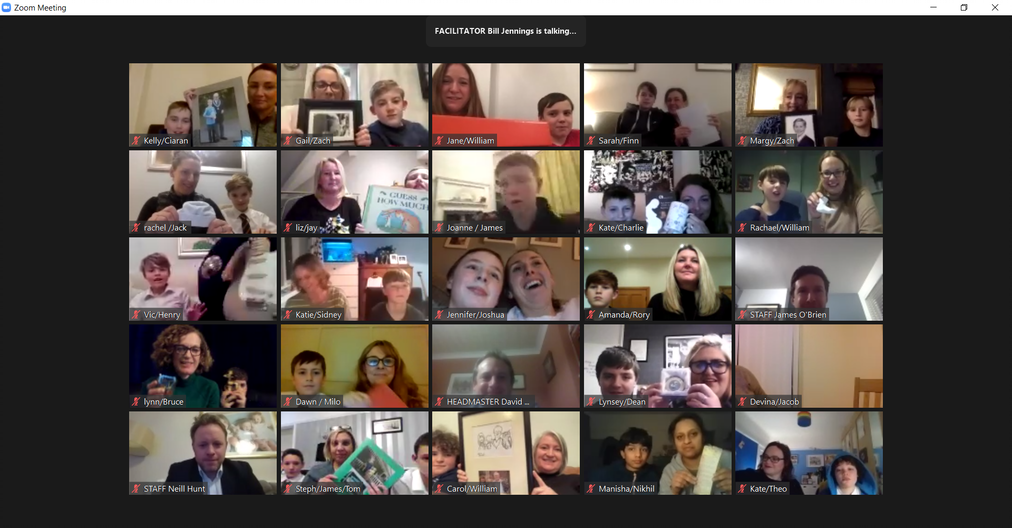 We use cookies on our website to give you the most relevant experience by remembering your preferences and repeat visits. By clicking "Accept All", you consent to the use of ALL the cookies. However, you may visit "Cookie Settings" to provide a controlled consent.
Privacy Overview
This website uses cookies to improve your experience while you navigate through the website. Out of these, the cookies that are categorized as necessary are stored on your browser as they are essential for the working of basic functionalities of the website. We also use third-party cookies that help us analyze and understand how you use this website. These cookies will be stored in your browser only with your consent. You also have the option to opt-out of these cookies. But opting out of some of these cookies may affect your browsing experience.