Biology
Miss J Whitehead – Head of Department
Mr D WIlliams
Mr G Bonfante
Mrs R Wright
Mr R Yates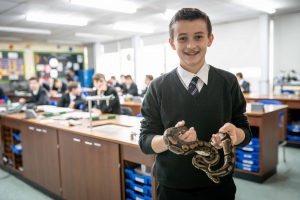 Lower School

In Year 8, students will study a broad range of topics including:
Cells and Tissues
Locomotions
Microbes and Health
Reproduction
Genetics and Adaption
In Year 9 students will begin to study topics that will appear on their GCSE examinations. Their work will cover diverse areas of Biology such as:
Blood and Circulation, Respiration
Diet and Digestion
Energy and the Environment
Plants and Nutrient Cycles
Useful Websites for Lower School Biology:
GCSE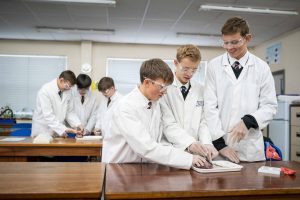 The Biology GCSE follows the AQA examination specification and will cover topics such as:
Homeostastis
Plant Hormones and Diseases
Human Nervous and Hormonal System
Human impact on the environment
Disease and Immunity
Drugs and Drug Testing
Students will be examined in the summer of their final GCSE year and the exam will consist of two papers both holding a weighting of 50% each.
Throughout the 2 years of GCSE, students will carry out a series of assessed practicals in which they will be expected to demonstrate core practical skills and develop them throughout the year.
During the students time in Year 10 and 11, they will carry out a range of dissections and be presented with current topics. We also have a range of work experience links to hospitals and stretch and challenge activities, such as the Biology Olympiad, that students can participate in.
Useful Websites for GCSE Biology:
BBC GCSE Bitesize
What2learn
AQA GCSE Biology Overview
S-cool GCSE
A Level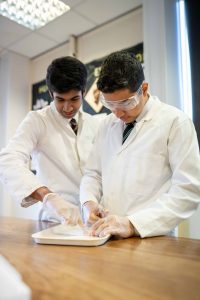 The Biology A Level course follows the AQA examination specification.
Throughout the two years of A Level, students cover a range of topics such as:
Genetics
The Nervous System
Inheritance
Biological Molecules
Ecology
Boys experience hands on dissections and work with live organisms. Throughout the year, students also take part in a residential trip to study Ecology in more detail and a trip to Chester Zoo to examine courtship and behaviour.
In the final summer examinations, students will complete three papers examining their understanding of the topics throughout their two year course.
Throughout the year, students will also be formally assessed on their practical competencies by completing twelve assessed practicals which will result in a pass/fail grade.
Useful Websites for AS & A Level Biology:
Biologymad
S-cool A Level Biology
Get Revising
Biology Guide
AQA A Level Biology

Field Trips
The Biology department also runs several field trips. We have recently taken the students to Chester Zoo and on an extended three-day field course to Wales to study the coastal ecosystems.
Extracurricular Activities
The Department has an excellent Biology club run by Sixth Form students, which meets on Friday lunchtimes in BL1. We also have an extensive timetable of guest lecturers who give a range of talks on cutting-edge Biology subjects. The talks are open to Sixth Form and Year 11 students and younger students who show a flair for the subject.
Other Useful Websites