Sport
Merchant Taylors' is renowned for its sporting pedigree. With expert coaching across a range of sports and excellent facilities, boys thrive on the opportunities to compete and develop their talents in team and individual sports.
We enjoy a regional and national reputation for rugby, cricket and hockey and our football continues go from strength to strength. Boys also take part in athletics, tennis, badminton, basketball and various other sports.
Being a good sportsman, in every sense, is the philosophy that underpins our approach to sport. We offer a wide range of activities to cater, including hiking, climbing and orienteering which ensures that all types of boys can take part and feel a sense of achievement.
Our full range of sports fixtures and activities can be found here and a summary of our training schedule can be seen below.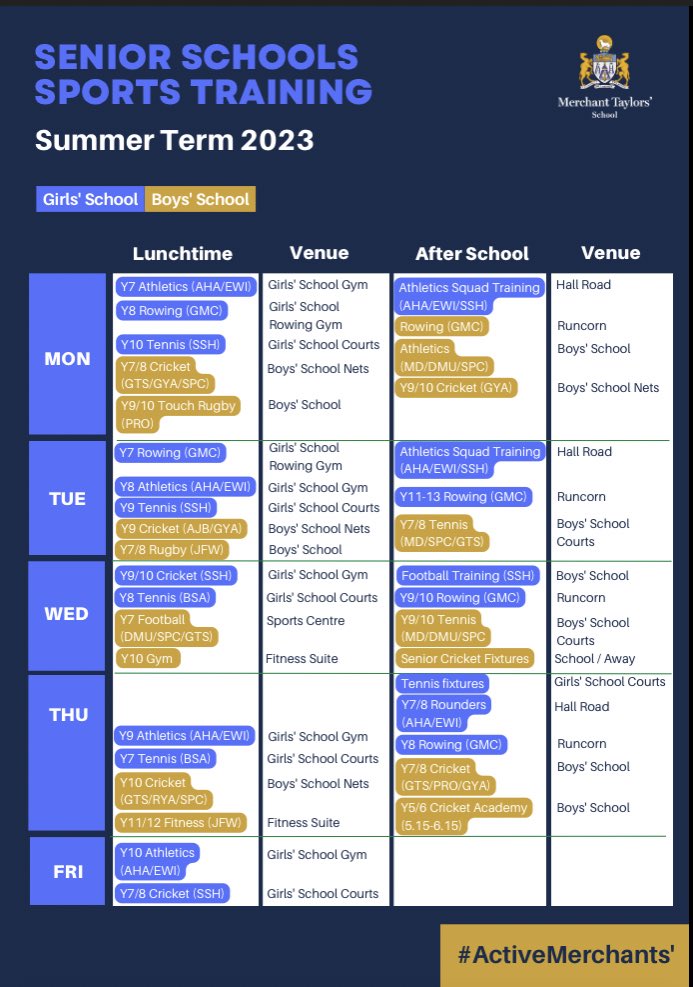 We use cookies on our website to give you the most relevant experience by remembering your preferences and repeat visits. By clicking "Accept All", you consent to the use of ALL the cookies. However, you may visit "Cookie Settings" to provide a controlled consent.
Privacy Overview
This website uses cookies to improve your experience while you navigate through the website. Out of these, the cookies that are categorized as necessary are stored on your browser as they are essential for the working of basic functionalities of the website. We also use third-party cookies that help us analyze and understand how you use this website. These cookies will be stored in your browser only with your consent. You also have the option to opt-out of these cookies. But opting out of some of these cookies may affect your browsing experience.