A Celebration Of Liverpool
"A Celebration of Liverpool" tells the story of the highs and lows of Liverpool's experiences in a fast moving show with music, drama, poetry, prose readings, humour, jokes and Powerpoint. We focus on major events such as the rise of the Port of Liverpool, the Slave Trade, the World Wars, the rise of The Beatles, the Toxteth riots and the Hillsborough Disaster as well as revelling in the humour, character and the football (Red and Blue) of our amazing city. It will be performed by a cast of thirty six students from both our senior schools plus several teachers past and present including Mr Stanley, Ms. Finnegan, Dr Gill and Mr Whittaker .The show is compiled and directed by Dr Gill who originally put it together shortly after Hillsborough and it has been performed every five years since then.
"A Celebration of Liverpool" will be performed in the Williams Hall at the Boys' School on Thursday 19th, Friday 20th and Saturday 21st March at 7.30 pm and tickets can be obtained online at here, from the Box Office at both schools, from Pritchard's Bookshop in Crosby and "on the door" on the nights of the performances.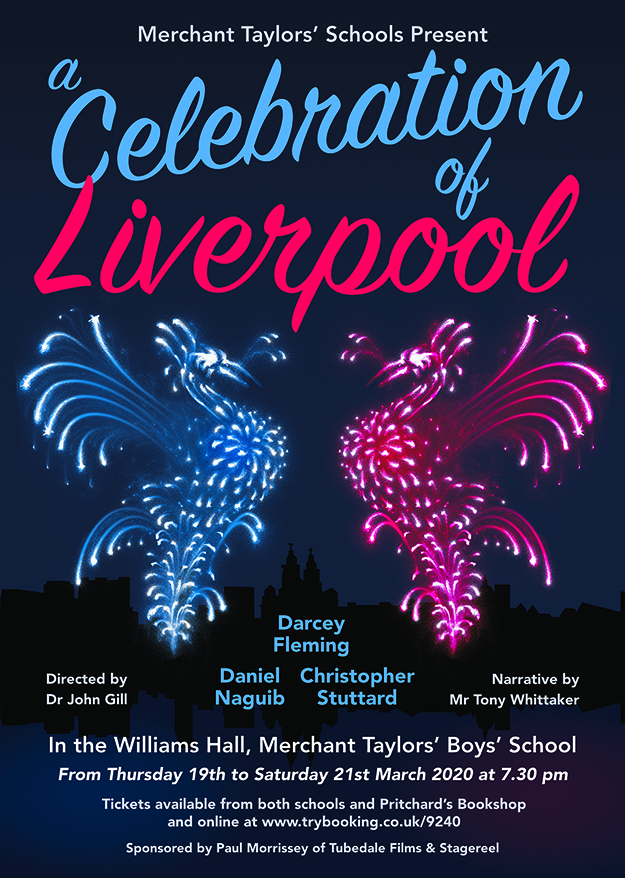 We use cookies on our website to give you the most relevant experience by remembering your preferences and repeat visits. By clicking "Accept All", you consent to the use of ALL the cookies. However, you may visit "Cookie Settings" to provide a controlled consent.
Privacy Overview
This website uses cookies to improve your experience while you navigate through the website. Out of these, the cookies that are categorized as necessary are stored on your browser as they are essential for the working of basic functionalities of the website. We also use third-party cookies that help us analyze and understand how you use this website. These cookies will be stored in your browser only with your consent. You also have the option to opt-out of these cookies. But opting out of some of these cookies may affect your browsing experience.