A Level success at Merchant Taylors' Boys' School
Students and staff at Merchant Taylors' Boys' School are celebrating another excellent A Level performance this year, in spite of challenges caused by Covid-19 restrictions.
More than half of all boys (56%) achieved at least one A* grade among their scores and one fifth of the year group got straight A*s. Indeed, A* was the largest single grade achieved by boys at the school.
Almost 80% of the year group achieved an A* or A, with 43% of the year group scoring straight A*or A. More than 60% of all grades awarded were at A* or A.
Marcus Baldwin was one of six boys who achieved four straight A* gradesSix boys – Marcus Baldwin, Ben Falconer, Shaun Fernando, Ed Pope, Ethan Roberts and Sam Roughley – all achieved a remarkable four A* grades across a broad range of subjects including Biology, Chemistry, Physics, Maths, Economics, Latin, German, English and History.
More than 92% of boys are leaving to take up university places across the UK and beyond, including two, Sam Roughley and Ben Falconer, heading to Oxbridge colleges.
Three boys will now study medicine at Edinburgh, Manchester and Sheffield, while other destination courses include Materials Science & Engineering at Imperial College London, Software Engineering at Lancaster University, History at Durham, Aeronautics & Astronautics at Southampton and Economics at LSE.
STEM subjects performed particularly well, with 43% of all grades at A*, while four in every five grades in modern and classical languages were either A* or A.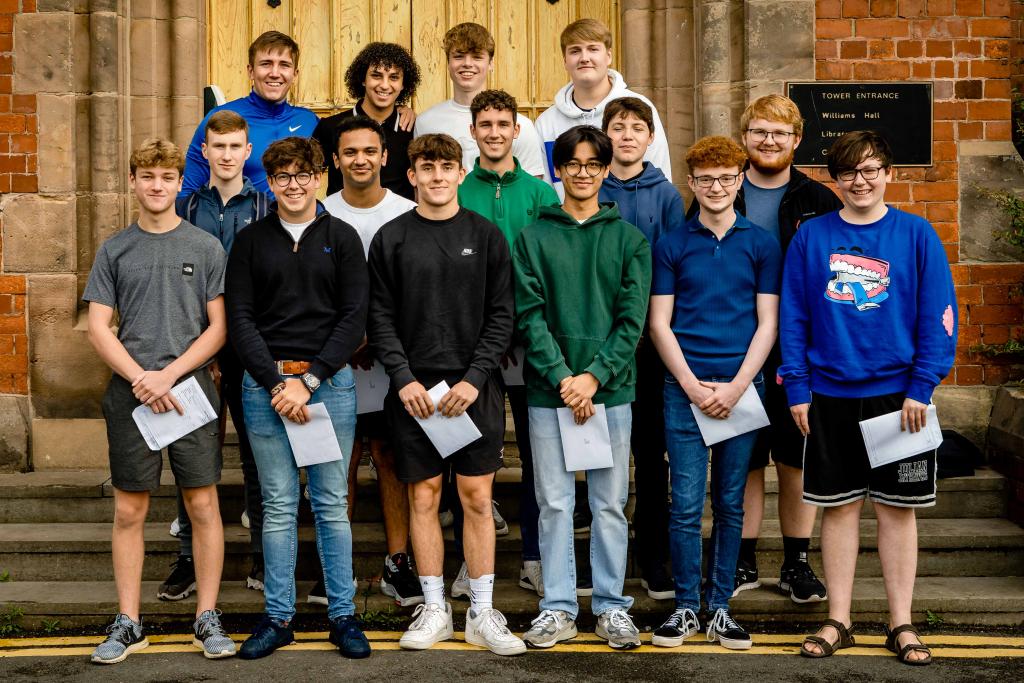 This year, following the cancellation of examinations, grades were awarded through a process of teacher assessed grades, against a national standard and approved and awarded by the exam boards. Throughout periods of enforced lockdown and isolation, Merchant Taylors' delivered online lessons, tutorials, assessments and support to boys in all year groups, every day.
Among the many Merchant Taylors' success stories is Joseph Collins, who achieved three As and one B grade and is now looking forward to studying Genetics at the University of Leeds, and Joshua Green, who scored two A* and an A and is heading to Durham University to read Anthropology.
Head Boy James O'Sullivan, who has been playing rugby at Sale Sharks Academy U18 and Irish Exiles U19s this year, achieved three A* and a B and is leaving to study Economics at Bath.
Luke Suarez, who has shown an instinct for veterinary science from a very young age, will now fulfil his ambitions at the University of Liverpool after achieving two A*s and an A. Luke is also a talented athlete, who represented Merseyside in the English Schools Championship earlier this year.
Another boy following his dreams is Oliver Powell, a passionate ecologist, who is leaving to study Marine and Freshwater Biology at Aberystwyth.
David Wickes, headmaster at Merchant Taylors' Boys' School, said: "Collectively and individually, the boys have been a huge credit to themselves and their families this year. Despite the challenges of lockdown, restrictions and remote learning, they have risen above it all to show their very best.
"The breadth of success across many subjects is especially pleasing and these results further demonstrate that with excellent teaching from specialist staff, the crucial support of parents and their own strong work ethic and positive approach, students really can achieve anything at our school."
We use cookies on our website to give you the most relevant experience by remembering your preferences and repeat visits. By clicking "Accept All", you consent to the use of ALL the cookies. However, you may visit "Cookie Settings" to provide a controlled consent.
Privacy Overview
This website uses cookies to improve your experience while you navigate through the website. Out of these, the cookies that are categorized as necessary are stored on your browser as they are essential for the working of basic functionalities of the website. We also use third-party cookies that help us analyze and understand how you use this website. These cookies will be stored in your browser only with your consent. You also have the option to opt-out of these cookies. But opting out of some of these cookies may affect your browsing experience.