AJIS Chess Congress Success
Fifteen enthusiastic Chess players – Aaron Freddy, Archie Weindling, Joshua Whalley, Dexter Blower, Martin Chen, Shamal Harave, Fauzaan Syed, Abdullah Ali, Danish Rajkumar, Haris Jacobs, William Cunliffe, James Thompson, Adam Blagbrough, Drew Hutchinson and Joseph Bigley travelled to Bolton Junior School for the annual AJIS Chess Congress.  There were 3 teams – U9, U10 & U11.  Each player played 5 rounds and scores were calculated as to whether they won, lost or drew their games.  Each boy won at least one game.  Special mention for Martin Chen (Year 4) who won all 5 games, Shamal Harave (Year 5) winning 4 games with 1 draw and Aaron Freddy (Year 3) winning 4 games and a draw. 
The boys demonstrated fantastic teamwork encouraging one another and showing great sportsmanship throughout the tournament.
Medals were awarded to the top performing pupils in each group –
                              Martin Chen – Gold                       Aaron Freddy – Silver
                              Joshua Whalley – Bronze              Shamal Harave – Gold
                              Danish Rajkumar – Bronze             Drew Hutchinson – Bronze
Well Done to all the boys who took part, you should be extremely proud of yourselves!
                              Mrs Rogers                        Mrs Mellor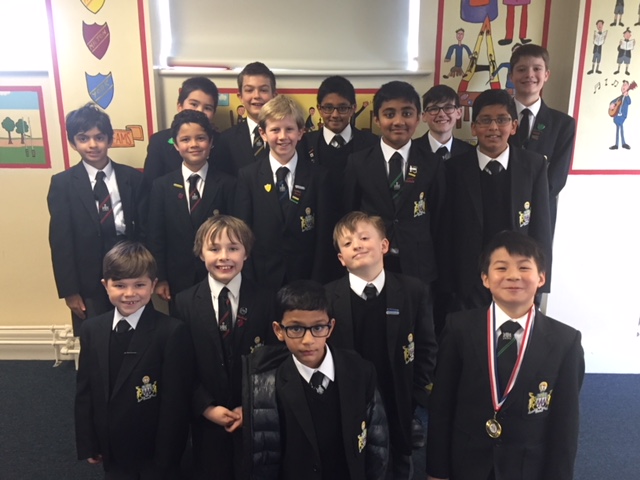 We use cookies on our website to give you the most relevant experience by remembering your preferences and repeat visits. By clicking "Accept All", you consent to the use of ALL the cookies. However, you may visit "Cookie Settings" to provide a controlled consent.
Privacy Overview
This website uses cookies to improve your experience while you navigate through the website. Out of these, the cookies that are categorized as necessary are stored on your browser as they are essential for the working of basic functionalities of the website. We also use third-party cookies that help us analyze and understand how you use this website. These cookies will be stored in your browser only with your consent. You also have the option to opt-out of these cookies. But opting out of some of these cookies may affect your browsing experience.