Boys learn CSI skills
A group of boys took part in a special activity learning about the complexities of crime scene investigation.
The forensic science session, part of our regular TENDO enrichment programme, focussed on BPA, or Blood Pattern Analysis. It was led by school science technician and former forensic laboratory scientist, Emma Birchall.
Pupils in Years 10 to 12 learned how forensic scientists use the laws of maths, physics and biology to interpret blood patterns at crime scenes. They then worked to recreate some of those patterns themselves using paint.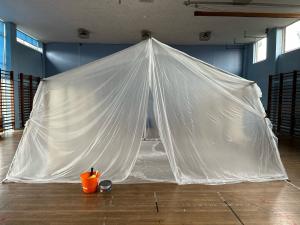 We use cookies on our website to give you the most relevant experience by remembering your preferences and repeat visits. By clicking "Accept All", you consent to the use of ALL the cookies. However, you may visit "Cookie Settings" to provide a controlled consent.
Privacy Overview
This website uses cookies to improve your experience while you navigate through the website. Out of these, the cookies that are categorized as necessary are stored on your browser as they are essential for the working of basic functionalities of the website. We also use third-party cookies that help us analyze and understand how you use this website. These cookies will be stored in your browser only with your consent. You also have the option to opt-out of these cookies. But opting out of some of these cookies may affect your browsing experience.