Merchant Taylors' welcomes Parkinson's footballers for international tie
A very special international football match is taking place at Merchant Taylors' School this weekend.
All of the players in the unofficial tie between England and Wales suffer from Parkinson's Disease and will compete in a walking football match at the Boys' School.
It has been organised by Old Crosbeian Laurie Sephton, who is a member of the Crosby-based Northern Lights team, which won the annual Sport Parkinson's Try-Athlon in July, defeating the Wales Parkinson's team on penalties in the final.
The Northern Lights team makes up the majority of the England group for this weekend's fixture against Cadwyr Cymru.
Laurie left school in 1993 and was diagnosed with Parkinson's eight years ago. He hopes the match will help to raise awareness of the disease and highlight the opportunities that are open to people with Parkinson's to take part in the activities they enjoyed before their diagnosis.
Laurie said: "I have played football throughout my life – at university, Sunday league and regular five-a-side matches through work – I even took part in the annual monitors versus teachers match at Merchants'.
"The tournament this summer was the first time I'd kicked a ball for eight years and I loved every minute of it.  I'm really disappointed that I won't be able to play this weekend as I'm recovering from surgery, but I hope to be there to support and enjoy the great spirit between both teams.
"We want to attract more people with Parkinson's to join our group, not only to play football but to find other ways to take part in the activities they love. Parkinson's is widely seen as an old person's disease, but that's not true, and the more we can inform people about the reality of the condition, the better."
The England v Wales walking football match takes place at the Ian Robinson Sports Centre at 11am on Saturday 13 November. It follows a separate open football match at 5pm on Friday 12 November.
For further information about the match or the Northern Lights PD team, please email [email protected].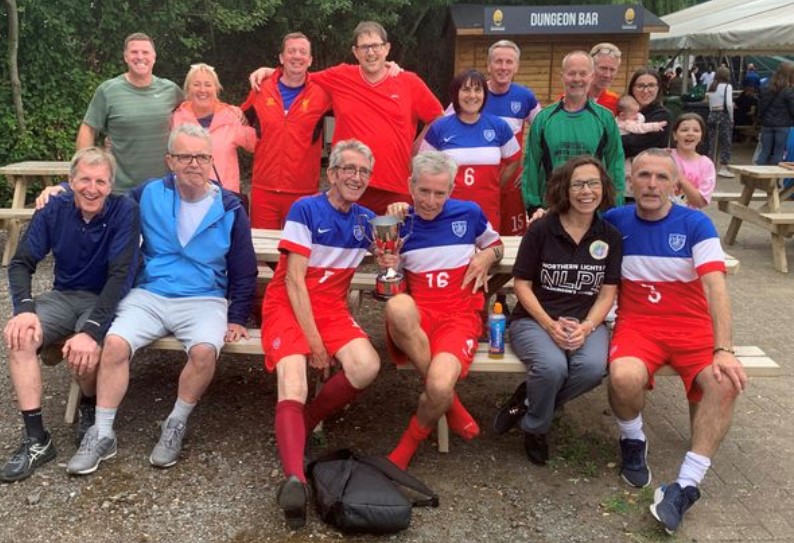 We use cookies on our website to give you the most relevant experience by remembering your preferences and repeat visits. By clicking "Accept All", you consent to the use of ALL the cookies. However, you may visit "Cookie Settings" to provide a controlled consent.
Privacy Overview
This website uses cookies to improve your experience while you navigate through the website. Out of these, the cookies that are categorized as necessary are stored on your browser as they are essential for the working of basic functionalities of the website. We also use third-party cookies that help us analyze and understand how you use this website. These cookies will be stored in your browser only with your consent. You also have the option to opt-out of these cookies. But opting out of some of these cookies may affect your browsing experience.