Magical Maths is Back!
Professor Poopenshtinken wanted to come again in person when he heard that there was another club running at your school! This time the Professor left in plenty of time in order to get a parking space outside the school (apologies if he is in your spot). He was really excited to be heading back! 
He was wondering if he was going to see some of the pupils from last time or some bright new faces… it was clear that we were all ready for Magical Maths…
The Professor burst in the classroom to see all the pupils that had turned up for Magical Maths. Some were even more energetic than him! Week one of Magical Maths had begun, and here is the story of how it panned out…
After a few ground rules (like no pulling the Professor's hair) we split the children into groups, keeping them roughly within their year groups and with children of similar ability. These groups then rotated through our three cracking activities.
Genius Training Booklet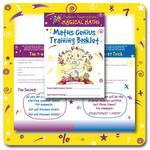 Learning objectives: Develop recognition of patterns in the number system. Develop pupil's confidence in their mathematical ability.Our Key Stage 2 children worked with the Professor and went through the genius training booklet. Students learned some of the Professor's techniques for multiplying any three digit number by 7, 11 and 13 really fast. This trick is not the easiest, but is super effective when pulled off well. With a bit of practise your child will be the local genius in no time!
All students were given a booklet to take home.
Mental Logs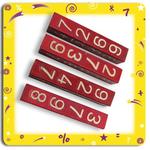 Learning objectives: Recognise the place value of each digit in a five-digit number (10,000s, 1,000s, 100s, 10s and 1s).This is a trick that allows the children to add up four 4-digit numbers on the 'Mental Logs' SUPER fast without even using a calculator, other than to check if it is correct…which it will be if done correctly!
Fizz Buzz!
Learning Objective: Recall multiplication and division facts for multiplication tables up to 12 × 12. Use the vocabulary of prime numbers, and be able to establish whether a number up to 100 is prime and recall prime numbers up to 19.
The final activity this week was 'Fizz Buzz'. This is where we got all the children standing in a circle, going around the circle we counted as high as we could. When a multiple of a chosen number came up the student had to say 'Fizz!' instead of the actual number. This was REALLY good fun and we continued until we had a WINNER! We also introduced a 'Buzz' word too, to make it harder!
A MAGICALLY good first week had by all. We're all math'd out now, and the Professor's taking a rest at the Holiday Inn before his flight home tomorrow morning.
See you next week (rumour has it our world class detective is coming to visit),
Brian Banks
Head of sorting travel arrangements for Professor Poopenshtinken
01744776110
P.S. – Our detective is called Stately Holmes – Stately's a relative of the famous Sherlock, and he has a reputation that's really building(!!)

We use cookies on our website to give you the most relevant experience by remembering your preferences and repeat visits. By clicking "Accept All", you consent to the use of ALL the cookies. However, you may visit "Cookie Settings" to provide a controlled consent.
Privacy Overview
This website uses cookies to improve your experience while you navigate through the website. Out of these, the cookies that are categorized as necessary are stored on your browser as they are essential for the working of basic functionalities of the website. We also use third-party cookies that help us analyze and understand how you use this website. These cookies will be stored in your browser only with your consent. You also have the option to opt-out of these cookies. But opting out of some of these cookies may affect your browsing experience.