Battle of Trafalgar Anniversary Parade
Hundreds of Sea Cadets and Royal Marine Cadets attended Horse Guards Parade on Sunday 20th October to take part in marking the anniversary of the Battle of Trafalgar.
Merchant Taylors' pupils L/Cpl Callum Davidson (Yr 11) and L/Cpl Lucy Taylor (Yr 10) were selected as part of the Royal Marine Cadet National Guard. Following a parade inspection by the Commandant General Royal Marine Maj Gen Matt Holmes CBE DSO, Sea Cadets Captain Phil Russell RN and the Mayor of Westminster a wreath laying ceremony was performed. L/Cpl Taylor had the privilege of being part of the wreath laying party on behalf of the Royal Marine Cadets.
The cadets then marched on The Mall towards Buckingham Palace where L/Cpl Davidson's Guard led the parade. Callum and Lucy said "We were extremely honoured to take part in such an important parade and the last two days of rehearsals had been really hard work but well worth it."
The annual event marks the Battle of Trafalgar; a naval engagement fought by the Royal Navy against the combined fleets of the French and Spanish Navies in 1805.
Well done to both Callum and Lucy!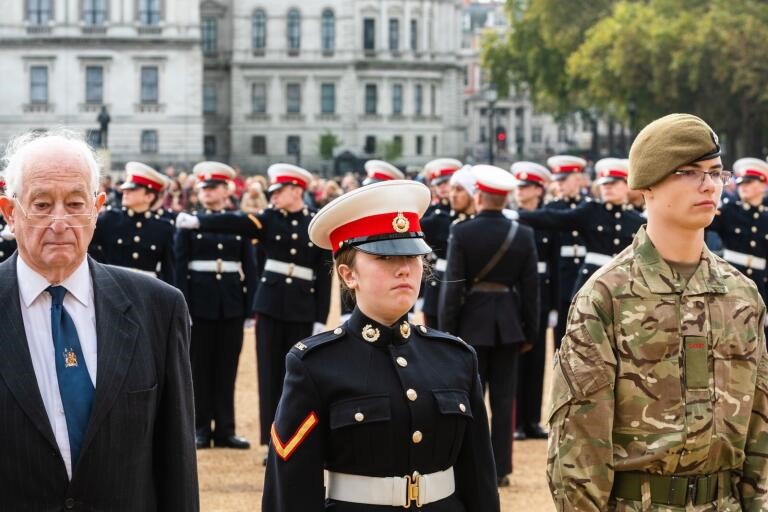 We use cookies on our website to give you the most relevant experience by remembering your preferences and repeat visits. By clicking "Accept All", you consent to the use of ALL the cookies. However, you may visit "Cookie Settings" to provide a controlled consent.
Privacy Overview
This website uses cookies to improve your experience while you navigate through the website. Out of these, the cookies that are categorized as necessary are stored on your browser as they are essential for the working of basic functionalities of the website. We also use third-party cookies that help us analyze and understand how you use this website. These cookies will be stored in your browser only with your consent. You also have the option to opt-out of these cookies. But opting out of some of these cookies may affect your browsing experience.