Excellent GCSE Results Keep Merchant Taylors' at the Forefront of Education
It has been a tremendous year for Merchant Taylors' Schools with more than 1 in 3 GCSE results being awarded A* or the new grade 8/9. Overall, 78% of grades achieved A*-B/9-6 grades, making this a year to remember.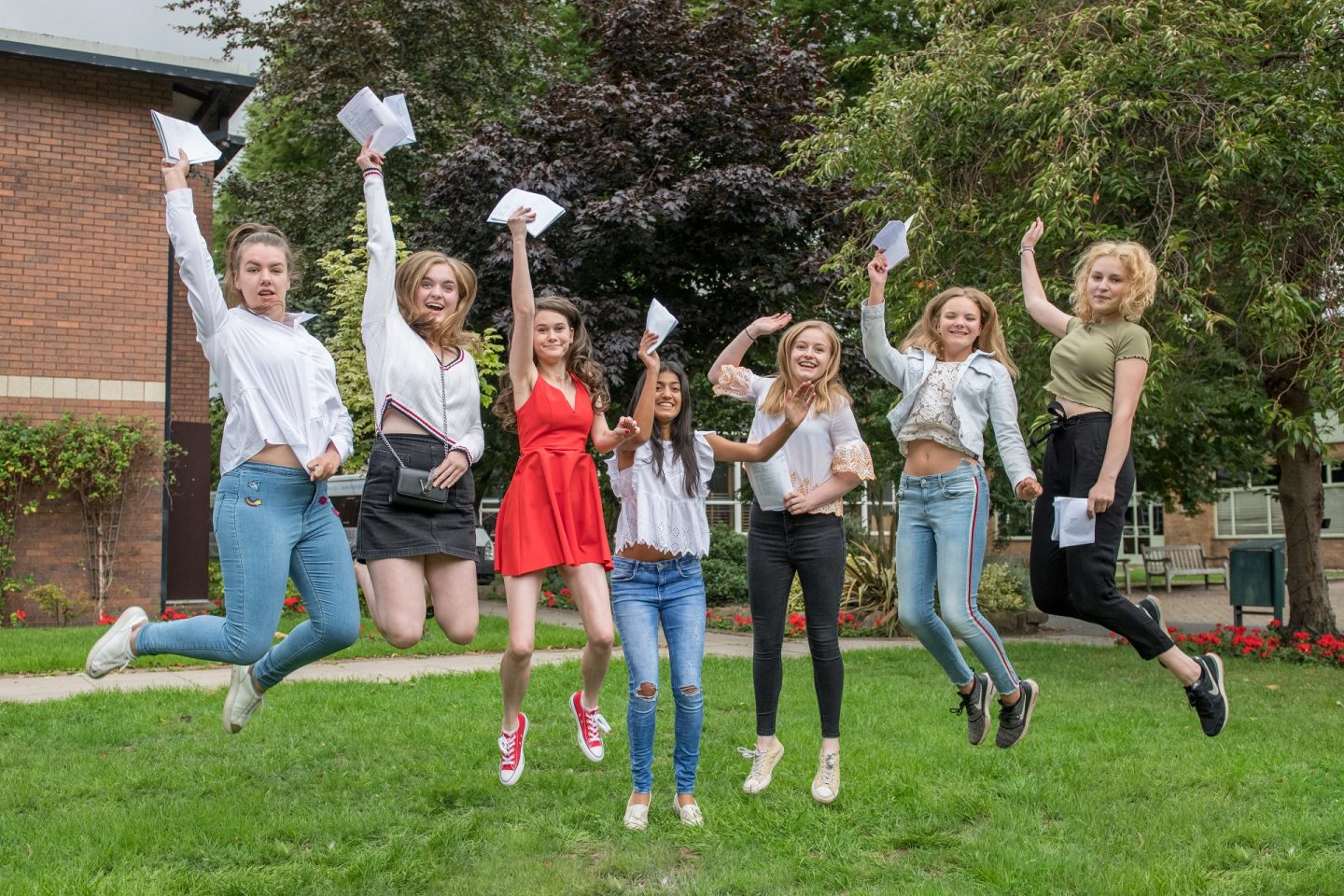 At Merchant Taylors', we have an excellent reputation for achieving top grades, but pupils here are also involved in a vast array of extra-curricular activities. Every year students celebrate huge success in music, sport and many other areas. This particular year group saw the boys become National Cricket Champions in 2017, while the girls excelled in athletics, becoming Sefton Champions.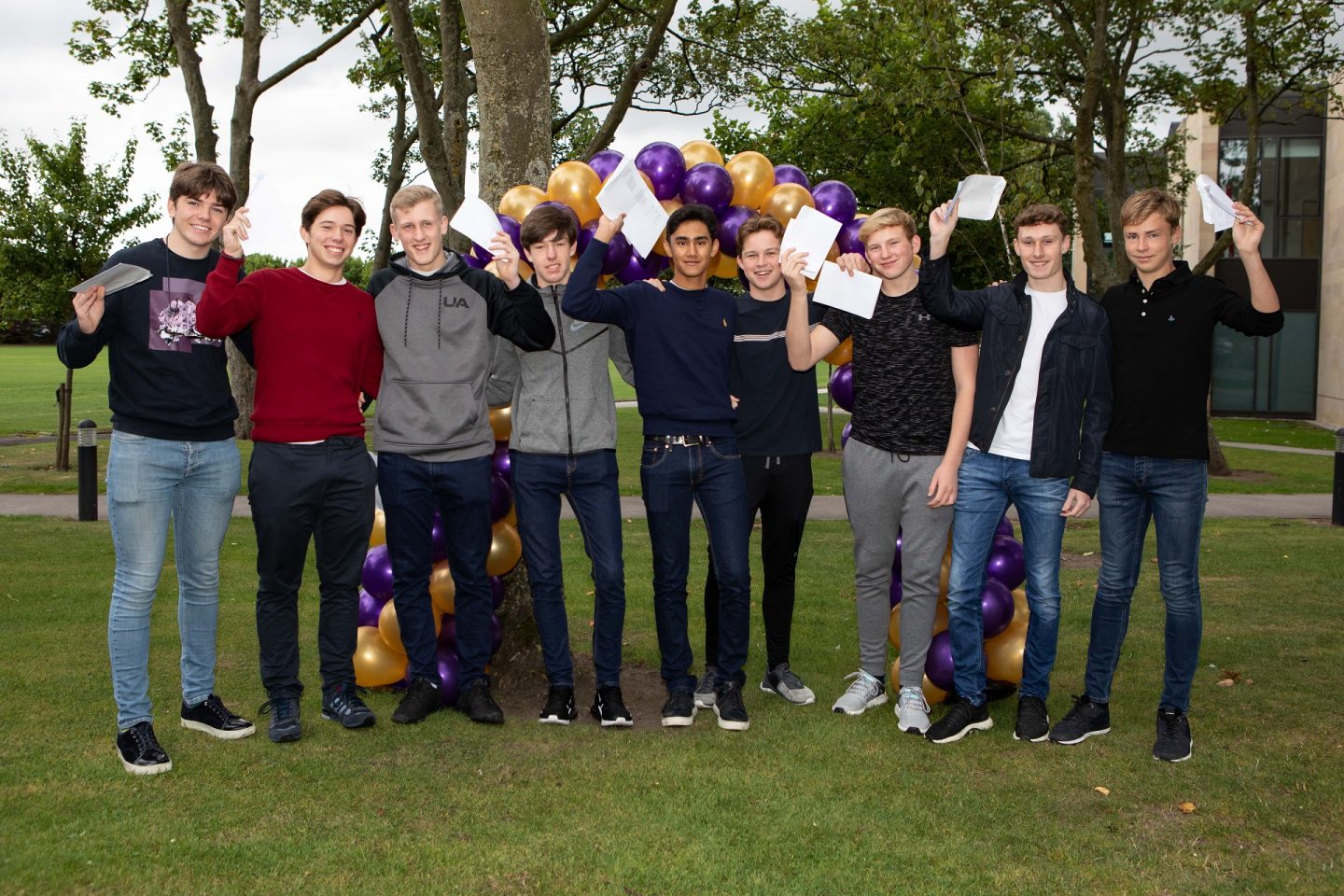 GCSE results day can be a nerve-wrecking time, but students have done themselves proud by working hard and taking advantage of all the help the Schools were able to consistently offer.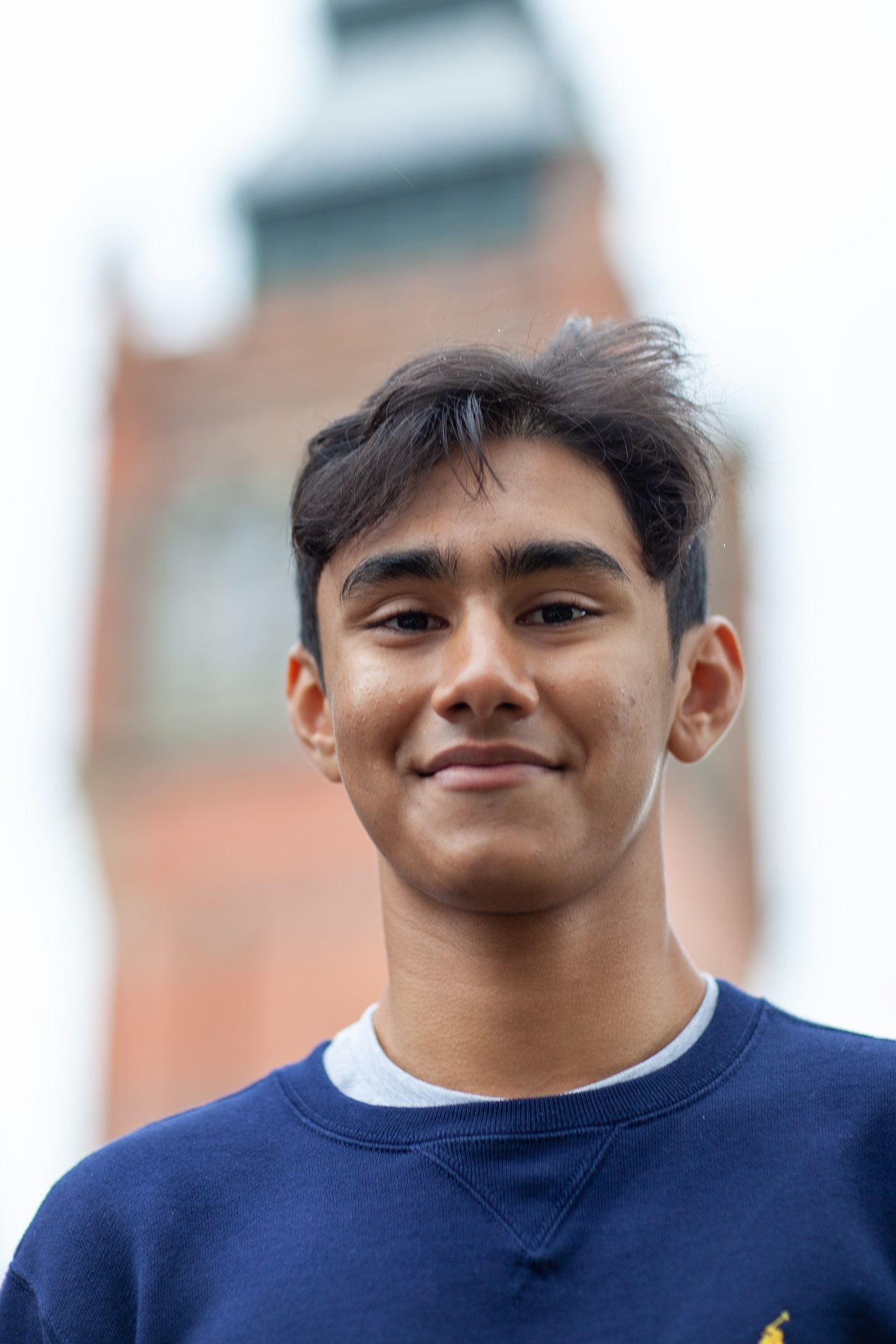 Jay Singh from Allerton in Liverpool, achieved the best results at the Boys' School having gained 7 grades 9s and 3 A*. Not only has Jay done extremely well academically, he also plays hockey and cricket and is working towards Grade 8 saxophone. Jay, along with three other boys and a pupil from the Girls' School, have their own band called Sax Pac who have played many gigs and have even appeared on the Linda McDermott show on BBC Radio Merseyside.
Matthew Marsh from Ormskirk, also did incredibly well having achieved 6 grade 9s, 3 A* and an A. Alongside his studies, Matthew plays hockey and is a member of the CCF.
Matthew Cheshire who lives locally in Crosby, gained 4 grade 9s, 4 A* and 2 grade 8s. A keen swimmer, Matthew is also a tri-athlete and starts his Duke of Edinburgh Gold award in September.
Ewan Rooney, from Formby, was pleased to achieve 2 grade 9s, 3 A*, 3 grade 8s and a 6. Ewan recently played a mobster in a production of To Kill a Mockingbird and is also a keen rugby and cricket player.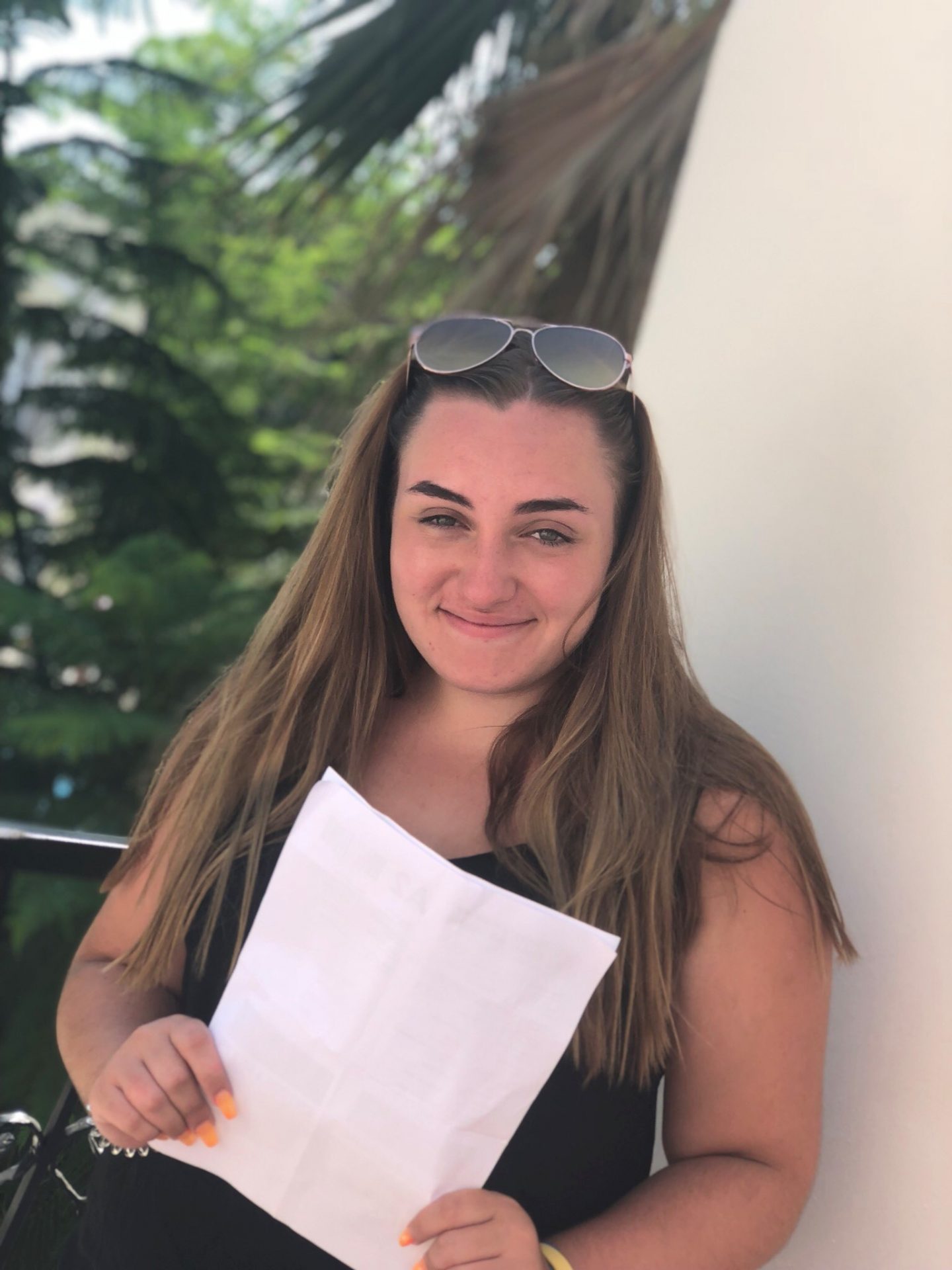 At the Girls' School, Samantha Harrison (pictured here receiving results whilst on holiday) who lives in St Helens, was the top performer with 8 grade 9s, 1 grade 8 and 1 A*. Sam is a member of the CCF and plans to study a degree in Physics with Spacecraft Engineering, with the hope of one day working for NASA. Sam has also been awarded a scholarship to attend the Merchant Taylors' Girls' Sixth Form.
Dite Bagdonaite from Crosby, achieved 8 grade 9s and 1 grade 8. Dite is an integral member of the Merchants' family with a busy extra-curricular timetable; she is Captain of the General Knowledge Club, a member of the CCF, sings in the Chamber Choir and takes part in regular school productions.
Abigail Jones (pictured together with Dite), from Southport, achieved 4 grade 9s, 4 grade 8s and 1 grade 7, plus an A. A keen swimmer and lover of sport, Abigail spent the summer on the School Sports Tour to Australia and Singapore and played in the Sydney Olympic Park where her team won their hockey match.
Leah Jay from Runcorn (pictured with proud auntie), achieved 1 grade 9, 4 grade 8s, and 3 grade 7s. Leah gained a Sports scholarship and bursary at Merchant Taylors' Girls' School and hopes to become a PE teacher.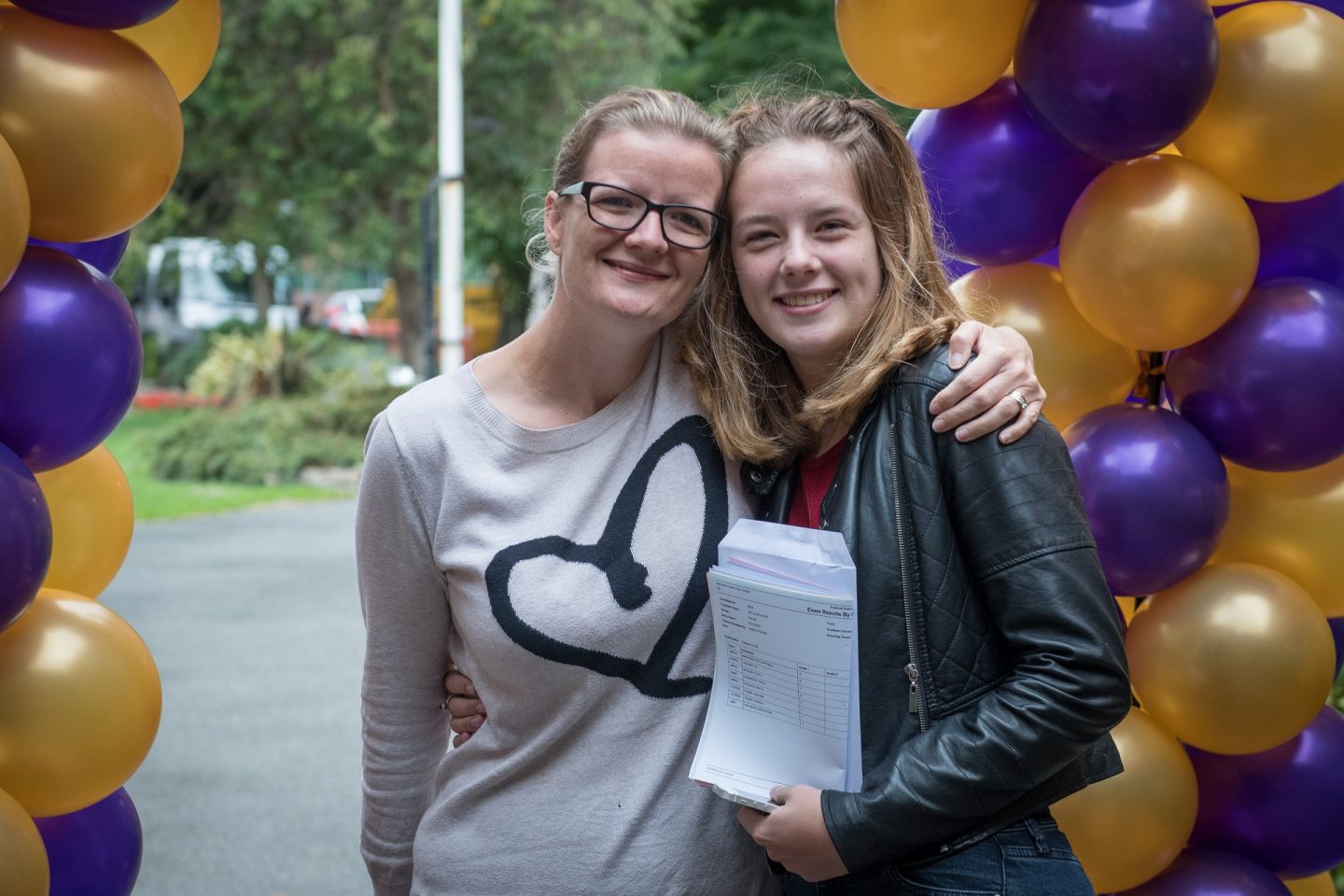 David Wickes, who takes up the post of Headmaster at the Boys' School in September 2018, commented "Our young men have clearly embraced life at Merchant Taylors' and have taken advantage of the many opportunities on offer here. Through their dedication, commitment and ambition, they have challenged themselves and have not been found wanting. It is pleasing to see so many of the students achieving the highly prized grade 9 which has been introduced to distinguish the real top performers. When this is set alongside the many other interests that they pursue outside of the classroom, it shows that these young men are an impressive group and make us all very proud. Well done to all of them and also to the parents and staff who have supported them over the years."
Headmistress at the Girls' School, Claire Tao was equally happy with the achievements of her students. "It has certainly been a great year for our girls. They have risen to the challenge of the new GCSEs. Their hard work has paid off and they are now enjoying the great results they deserve. There is enormous pressure on young people to excel in their exams and I believe the support and care we offer all of our students really helps them. We provide so much in terms of value added teaching and learning and we continually encourage our students to pursue their interests and passions. Congratulations to all the girls and thank you to the wonderful staff who have helped them along the way." 
We use cookies on our website to give you the most relevant experience by remembering your preferences and repeat visits. By clicking "Accept All", you consent to the use of ALL the cookies. However, you may visit "Cookie Settings" to provide a controlled consent.
Privacy Overview
This website uses cookies to improve your experience while you navigate through the website. Out of these, the cookies that are categorized as necessary are stored on your browser as they are essential for the working of basic functionalities of the website. We also use third-party cookies that help us analyze and understand how you use this website. These cookies will be stored in your browser only with your consent. You also have the option to opt-out of these cookies. But opting out of some of these cookies may affect your browsing experience.