Merchant Taylors' Welcomes New Headmaster at Senior Boys' School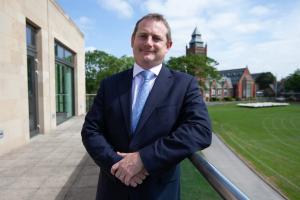 The start of the new academic year has seen the appointment of the twenty third Headmaster at Merchant Taylors' Senior Boys' School. David Wickes joins us from Warwick School where he worked as Deputy Headmaster.
Mr Wickes has a rich academic background and holds a degree in Modern History from Oxford University as well as an MA in War Studies from King's College, London. He began his teaching career at Dulwich College in 1997 and has more than twenty years' extensive experience of working in the independent education sector.
He left Dulwich for Abingdon School, in Oxfordshire, in 2008 where he was appointed Upper Master and taught history and sport, before joining Warwick School in 2013.
Talking about his new role, David, said: "It is a real honour to have been appointed Headmaster at such an exciting time in Merchant Taylors' history, with its 400-year anniversary milestone just a few years away. It is one of the most prestigious independent schools in the North West with an enviable reputation to match. 
From the moment I visited the school, I was struck by its warmth and tremendous community spirit. It is a school which is highly respected for its values and heritage and I'm looking forward to getting to know all the staff, parents, alumni and, most importantly, the boys."
Talking about what he will bring to the new role, he added: "I have worked at three large independent boys' schools and under my tenure, I will ensure that the school continues to raise confident, compassionate young men with a curiosity in the world about them, who can go on to reach their full potential and achieve their dreams."
As well as his academic successes, David has coached rugby to a high standard including being Backs Coach for the England Under 16s team from 2007 to 2013.
Founded in 1620, MTBS is a leading North West independent school for boys aged 11-18. This year, we enjoyed fantastic A Level results, being the top performing boys' school in Sefton, with one in five boys achieving A* and one in ten boys gaining places at Oxbridge.
We use cookies on our website to give you the most relevant experience by remembering your preferences and repeat visits. By clicking "Accept All", you consent to the use of ALL the cookies. However, you may visit "Cookie Settings" to provide a controlled consent.
Privacy Overview
This website uses cookies to improve your experience while you navigate through the website. Out of these, the cookies that are categorized as necessary are stored on your browser as they are essential for the working of basic functionalities of the website. We also use third-party cookies that help us analyze and understand how you use this website. These cookies will be stored in your browser only with your consent. You also have the option to opt-out of these cookies. But opting out of some of these cookies may affect your browsing experience.