Introducing our new CCF Contingent Commander
We are delighted to announce that Major Paul Ennis has taken up the position of Contingent Commander, replacing Major Helen Irwin who retired in January. This is an exciting appointment for the CCF as we come out of lockdown and look to reenergise the activities of the Combined Cadet Force.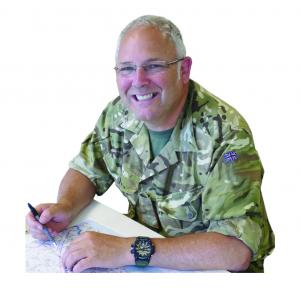 In his day job Paul is a Chartered Surveyor and the Managing Director of his own group of successful companies. He has a wide skill set and will be a fantastic role model to both cadets and adult instructors. Paul is no stranger to Merchant Taylors' as his daughter Charlotte attended the Girls' School up until a couple of years ago.
Paul's association with the cadet force goes back to his own time at school where he learnt valuable skills that he has taken forward into his working life. In the 1980s he was commissioned and progressed through the ranks ending up as a Company Commander responsible for all Army Cadets in the north of Merseyside.
After a break due to work commitments he re-joined the cadet force in 2018 and has since been attached to the Royal Signals Cadet Force as the Detachment Commander.
We look forward to Paul taking on the responsibility of running the Merchant Taylors' Combined Cadet Force as Contingent Commander and we are excited for this new chapter and for the further success of the cadets in the future.
We use cookies on our website to give you the most relevant experience by remembering your preferences and repeat visits. By clicking "Accept All", you consent to the use of ALL the cookies. However, you may visit "Cookie Settings" to provide a controlled consent.
Privacy Overview
This website uses cookies to improve your experience while you navigate through the website. Out of these, the cookies that are categorized as necessary are stored on your browser as they are essential for the working of basic functionalities of the website. We also use third-party cookies that help us analyze and understand how you use this website. These cookies will be stored in your browser only with your consent. You also have the option to opt-out of these cookies. But opting out of some of these cookies may affect your browsing experience.