Old Boy donates equipment to DT department
The DT department of the Boys' School was grateful to receive a very kind donation of equipment from Old Boy Geoffrey Brazendale.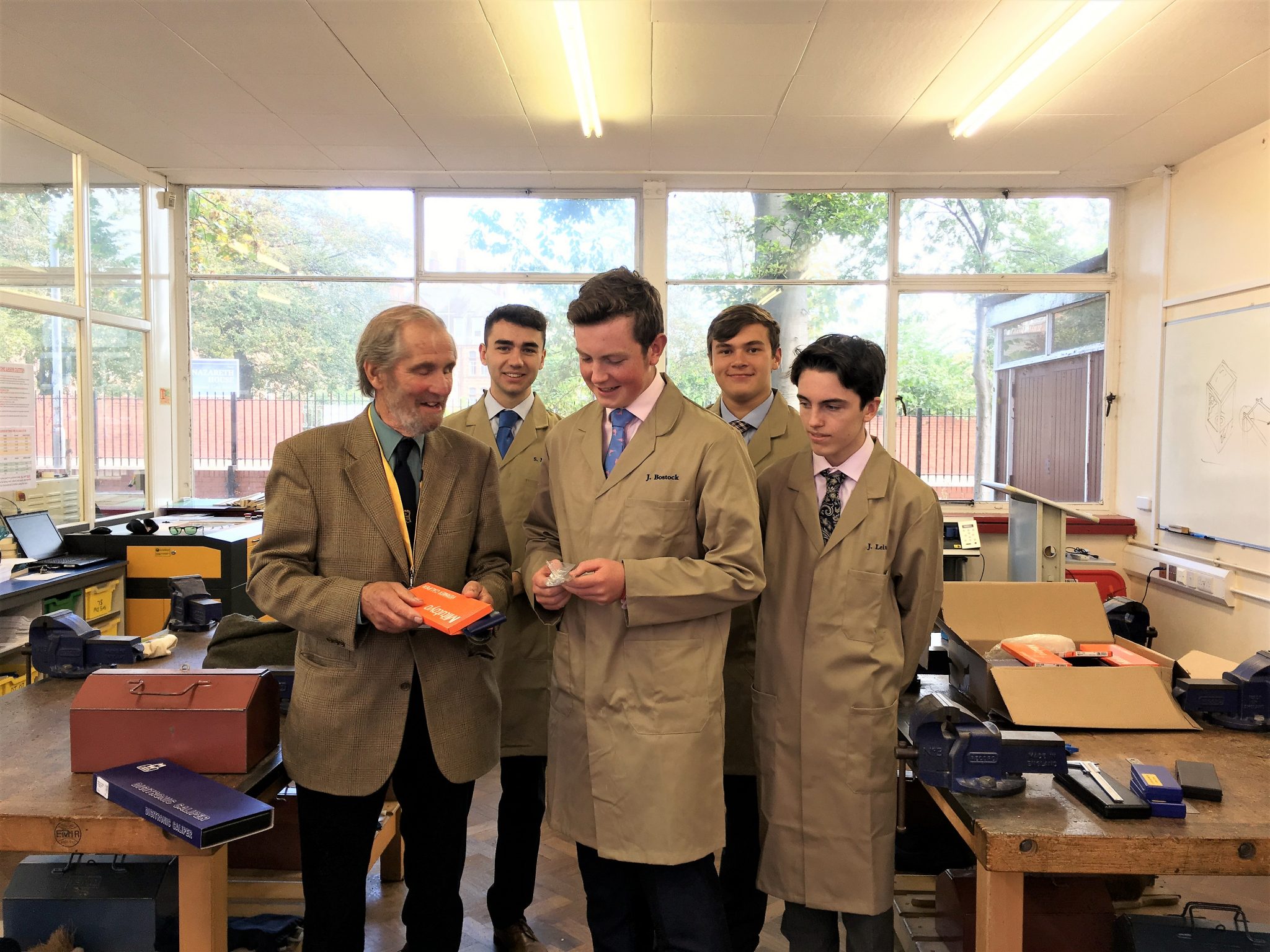 Mr Brazendale (1949 – 58) made the donation personally in October 2017 having travelled from his home in Cumbria. He was met by staff from the Alumni Relations Office and had the experience of a modern-day school lunch before presenting the micrometers to some Middle School pupils and Sixth Formers in the afternoon.

He had previously attended Speech Day in 2016 when one of his peers had been the Guest Speaker.  Following this he visited the school on a couple of occasions and felt he wanted to share his lifelong passion for engineering with current pupils in a practical way.
Mr Brazendale worked as a factory inspector in the North-East for a number of years and contacted the School about a gift for the DT Department.  Not only did engineering form an integral part of his working life but also his interest in motorcycles.  He published a book on the history of the sidecar in 2013.
Our thanks go to Geoff for his very kind gift to the School. Mr Brazendale's book entitled 'The Sidecar: A History' is available in the Boys' School library or to purchase at the following link.
We use cookies on our website to give you the most relevant experience by remembering your preferences and repeat visits. By clicking "Accept All", you consent to the use of ALL the cookies. However, you may visit "Cookie Settings" to provide a controlled consent.
Privacy Overview
This website uses cookies to improve your experience while you navigate through the website. Out of these, the cookies that are categorized as necessary are stored on your browser as they are essential for the working of basic functionalities of the website. We also use third-party cookies that help us analyze and understand how you use this website. These cookies will be stored in your browser only with your consent. You also have the option to opt-out of these cookies. But opting out of some of these cookies may affect your browsing experience.