Sixth Formers Unearth Historic Plaque
The plaque below has had an interesting life and quite how it came back to the School is still a mystery.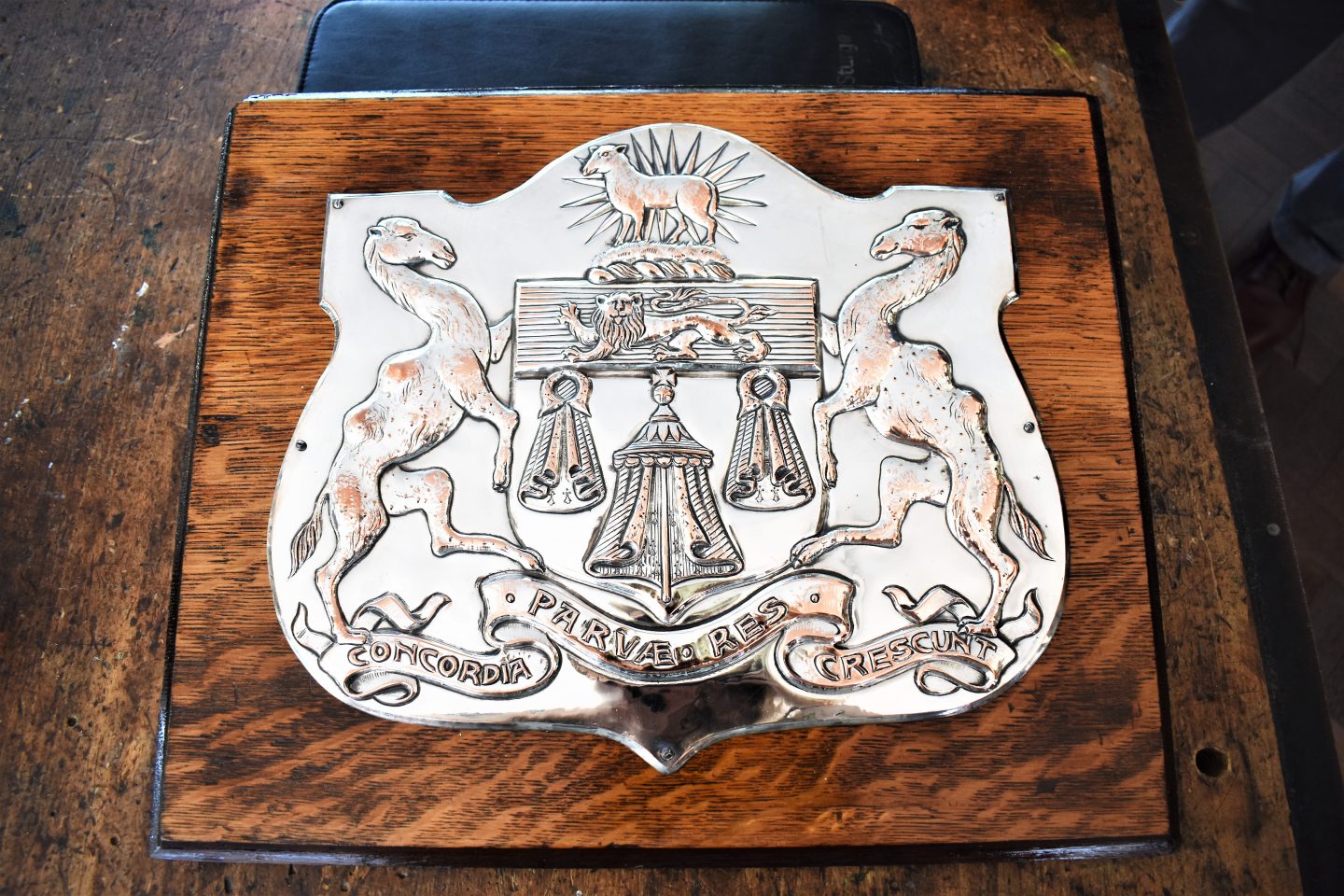 It was found by two current Lower Sixth students, Jack Bostock and Dominic Hodkinson, in a rather blackened state in an old store cupboard in the Boys' School DT labs. The boys restored the plaque, revarnished it, and messaged us to let us know about their discovery.
It bears the School crest and the reverse of the piece has a small nameplate which notes that it was presented to Sir William Scott-Barrett, 'by the boys of Merchant Taylors' School, Crosby on the occasion of his golden wedding, April 15th 1919'. Sir William Scott-Barrett was the School's first chair of governors after the School left the direct administration of the Merchant Taylors' Company. He served as chair from 1910 – 1921.
Born in 1843, he first worked in Liverpool as a 'clerk corn merchant' and married his wife Julia Colvile in Walton in 1869. He is listed as the 'Great Crosby and St Helens' colliery owner in 1881 and seems to have ran this business until its closure in 1898, with records stating it was 'abandoned' due to being 'unprofitable… seams practically exhausted'. He is later listed as the owner of a different colliery in Huyton in 1901.
Below this nameplate is a pen inscription of 'RRR Fisher' and a Crosby address. This is Raymond Robert Roscoe Fisher, who attended MTS 1932 – 38. The Fisher family have a had a long association with the Schools, with Raymond and his brothers Jeffrey and Leonard attending, as well as various other branches of the family. Raymond's father, Claude, served as art master for many years, and it is possible this connection is how the piece came to be returned to the School.
The final point of interest is a small coin-sized plate to the right of these inscriptions which lists a 'Fisher and Ludlow' manufacturing, a car body manufacturer in Birmingham. It is unclear if Raymond and his family were related to this firm, or if they were involved in the production of the plaque itself. The date of its award suggests that it is unlikely they were involved in its production, although it is still possible they pressed the crest.
Our thanks to Jack and Dom for their discovery and hard work!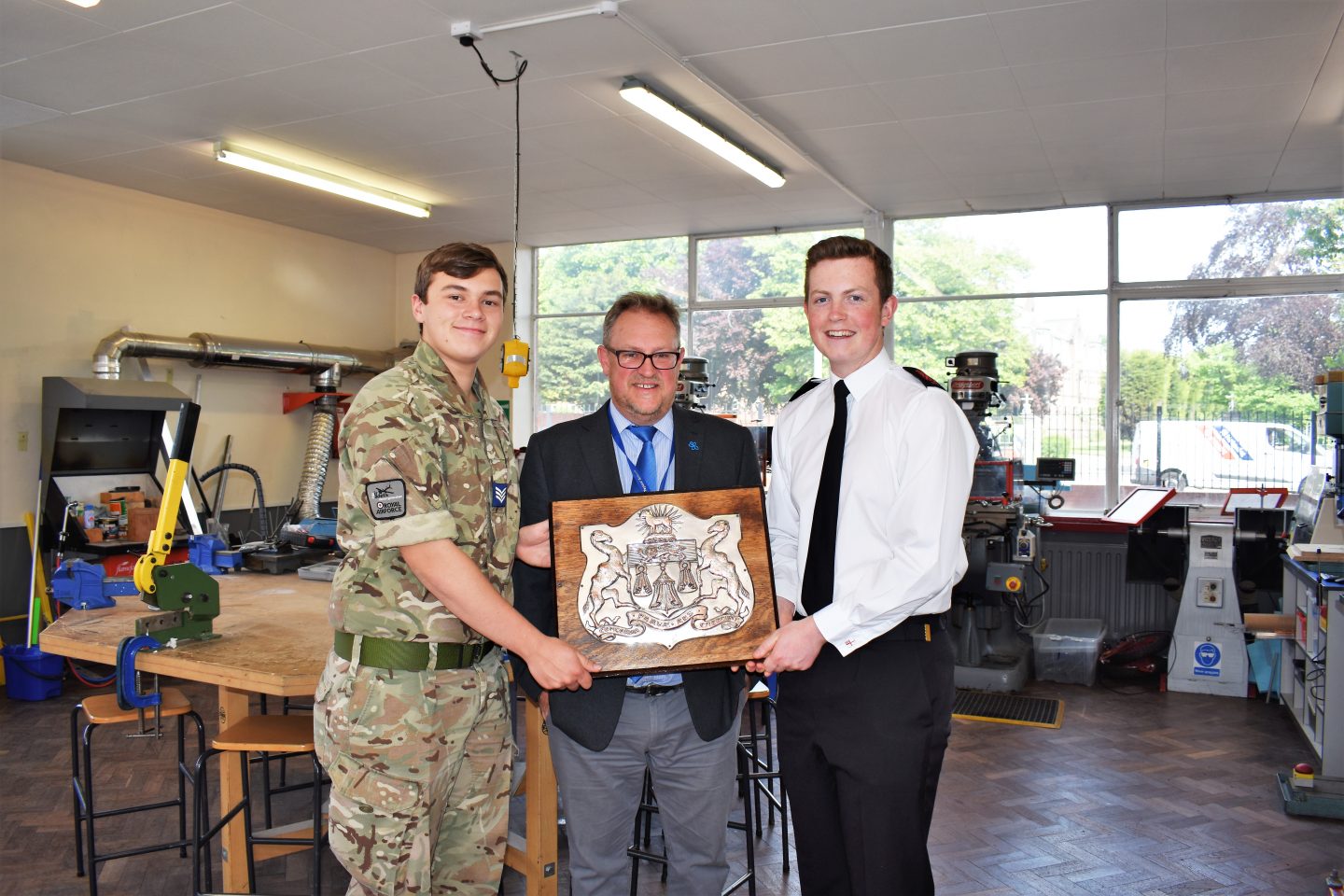 Every Friday we cover a piece from our archive on our Instagram feed. You can click here if you'd like to see any past entries, or here if you would like to see our 2020 archive.
We use cookies on our website to give you the most relevant experience by remembering your preferences and repeat visits. By clicking "Accept All", you consent to the use of ALL the cookies. However, you may visit "Cookie Settings" to provide a controlled consent.
Privacy Overview
This website uses cookies to improve your experience while you navigate through the website. Out of these, the cookies that are categorized as necessary are stored on your browser as they are essential for the working of basic functionalities of the website. We also use third-party cookies that help us analyze and understand how you use this website. These cookies will be stored in your browser only with your consent. You also have the option to opt-out of these cookies. But opting out of some of these cookies may affect your browsing experience.