Table Tennis Success!
Our U/16s Boys' team of Rhys Davies, Max Davies, Nick Moustaka, Chris Moustaka and Harry Griffiths did very well in the Zonal finals at Blackburn on the weekend winning their category and progressing into the last 16 in the country.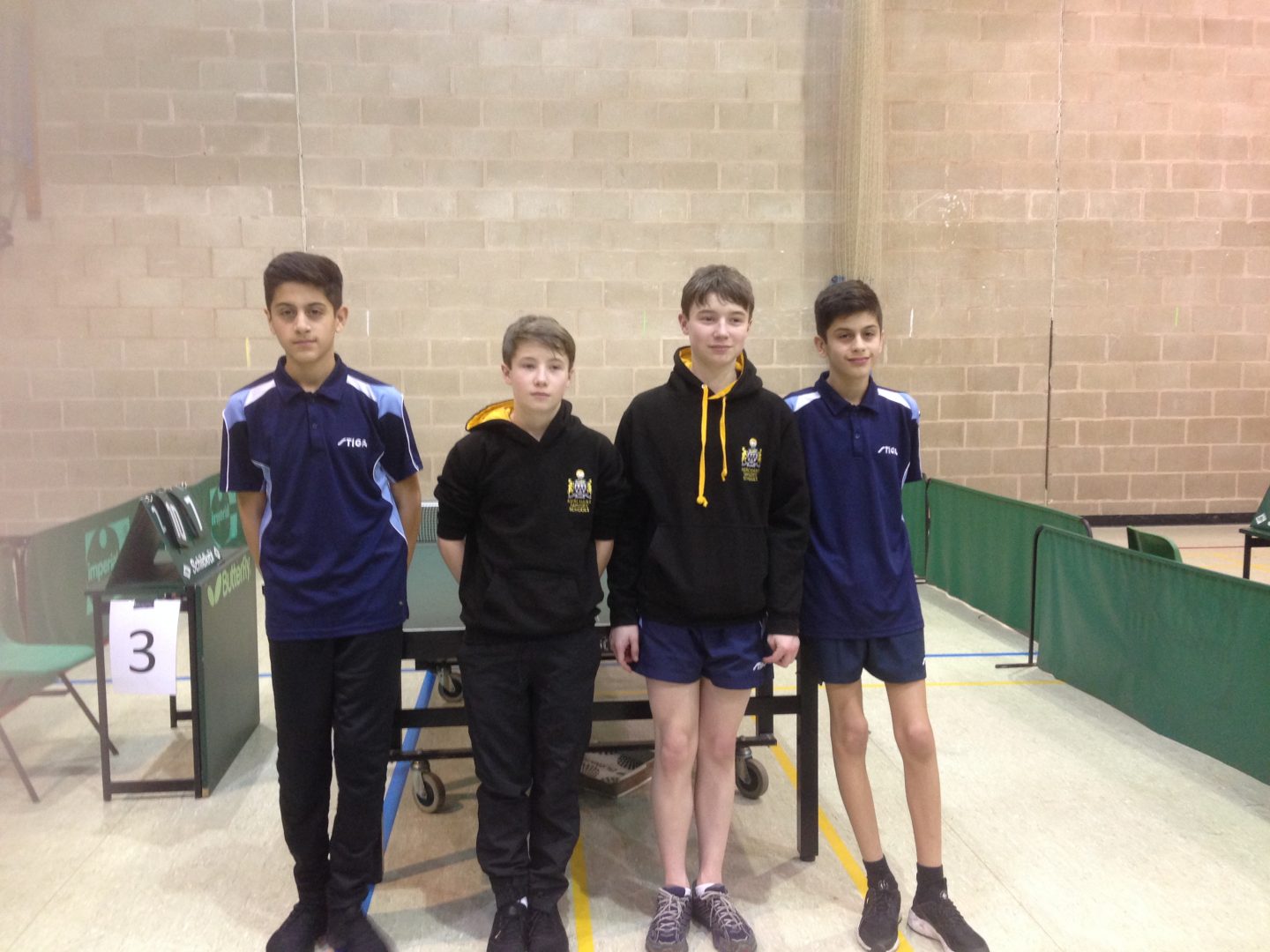 The Zonal Final comprised 5 county champions representing Merseyside, Cheshire, Greater Manchester, Lancashire and Shropshire plus a 2nd wildcard entrant from Cheshire and was played in 2 groups of 3 followed by semi finals the winner of which would qualify into one of 4 Regional Finals to be held on the first weekend in February.
Each match comprises 8 individual matches played as best of 5 sets with each set being the 1st to 11 points. Individual matches were played on 2 adjacent tables and there is a set order of play with each team playing their respective Number 1's against the opposition No.2's and then likewise with the Number 3's and 4's. After these are completed the 2nd matches see the Number 1's against each other with Number 2's now playing the Number 3's and then the Number 4's playing each other in the final match. It can get quite complicated and very tense for the parents watching!
Our group looked be the proverbial 'group of death' against Altrincham Grammar and Saints Peter and Paul Catholic High School, Widnes with both teams made up of competitive Table Tennis players who compete regularly across the North-West – the Widnes based team had 3 county players and a Para TT International.
Our 1st match was against Altrincham Grammar and we got off to a fantastic start winning the match 7-1 with Max Davies battling back from losing the 1st set to beat their No. 1 which set us on the road to victory. This eliminated our opposition as we set ourselves to play against Saints Peter and Paul – after 6 matches it was tied at 3-3 and both Max Davies and Christ Moustaka went to the deciding 5thset only for both of them to lose and we lost the match 5-3. This meant a semi-final against the winners of the other group, Sandbach – if we could win we would in all likelihood set up a rematch against Saints Peter and Paul in the final.
We got off to a great start in the semi final and built an unassailable 5-1 lead before a couple of tired performances left the final score at 5-3 in our favour with Rhys still unbeaten despite being pushed by players who have represented Cheshire and U/15  & U/18 level.
The final did not disappoint and after a pre-match pep talk the boys knew that every set might count as a draw could well see a countback situation invoked. The 1st 4 matches were all high quality but went with seeding and it was 2-2 but with Chris Moustaka gaining a set we were ahead on countback. Up stepped the No.1s and Rhys had to be at the very top of his game to win a high quality encounter against Cheshire's no 1 U/15 player – his 3-0 victory put Merchant Taylors in front. On the adjacent table Nick Moustaka produced his best ever result winning a in 5 sets against an established county player who had earlier beaten him comfortably. It became the turning point and with momentum on our side both Max and Chris reversed their earlier 5 set defeats in the group stage and we ended up winning 6-2 in the final and qualified in 1st place for the Regional Finals.
In the Regional finals we will be in a Group of 4 with only the winners progressing to the National Final – Our Players produced some excellent results – Rhys Davies won 8/8, Max Davies 4/8, Nick Moustaka 6/8, Christ Moustaka 3/6 and Harry Griffiths 1/2 – a fantastic team performance from a very young squad – all are eligible for at least another year at this level.
Before the next stage of this competition the boys will do battle against each other (and many of their club mates) for the Merseyside Individual Schools Title on Saturday January 20th at Crosby High School – only the age group winners progresses to the National Finals!
We use cookies on our website to give you the most relevant experience by remembering your preferences and repeat visits. By clicking "Accept All", you consent to the use of ALL the cookies. However, you may visit "Cookie Settings" to provide a controlled consent.
Privacy Overview
This website uses cookies to improve your experience while you navigate through the website. Out of these, the cookies that are categorized as necessary are stored on your browser as they are essential for the working of basic functionalities of the website. We also use third-party cookies that help us analyze and understand how you use this website. These cookies will be stored in your browser only with your consent. You also have the option to opt-out of these cookies. But opting out of some of these cookies may affect your browsing experience.