Winning Poet
A pupil from Merchant Taylors' Boys' School has been awarded 'Commended Winner' in the Foyle Young Poets of the Year Award. Udit Mahalingam's entry was chosen from over 11,000 entries.  It is the largest competition of its kind and its importance is widely attested.  Each year 100 winners (85 Commendations and 15 Overall Winners) are selected by a team of high profile judges, and will receive their awards at an annual prize-giving event on National Poetry Day.  Writers from 89 different countries entered the competition, from as far afield as Azerbaijan, Myanmar, Syria and Zimbabwe.
This Award is an opportunity for any young poet to accelerate their writing career. Since it was founded in 1998 the Award has kick-started the career of some of today's most exciting new voices, such as Helen Mort, a successful poet whose first collection was recently published by Chatto & Windus.
Winners will have their poems published in the annual Foyle Anthology, 24,000 of which are distributed to poets, teachers, students, libraries, schools and arts organisations right across the UK. These winners are among the most promising young literary talent in the UK, and the ceremony is the first step in an ongoing process of developing this potential; many of our former winners have gone on to publish work with major publishing houses such as Faber & Faber and Carcanet.
Udit was thrilled, and somewhat surprised, to have achieved this Award, he said "I must admit that I didn't fully comprehend the scale at which this competition was held, and didn't think I stood a chance of even being accepted for submission. The fact I was selected as a Commended Winner has really given me the confidence to write more as a whole, across all types of literature, and has provided motivation for me to enter next year.
I have always loved English as a subject, and this award has taught me to appreciate all aspects of it, and made me love it even more! I'm still a bit in shocked that the judges thought my work was good enough for commendation, especially since it was one of my first attempts at writing poetry.
I honestly have to say it is one of the best things, writing wise, that has ever happened to me."
Udit pictured with his proud family earlier this year on GCSE Results Day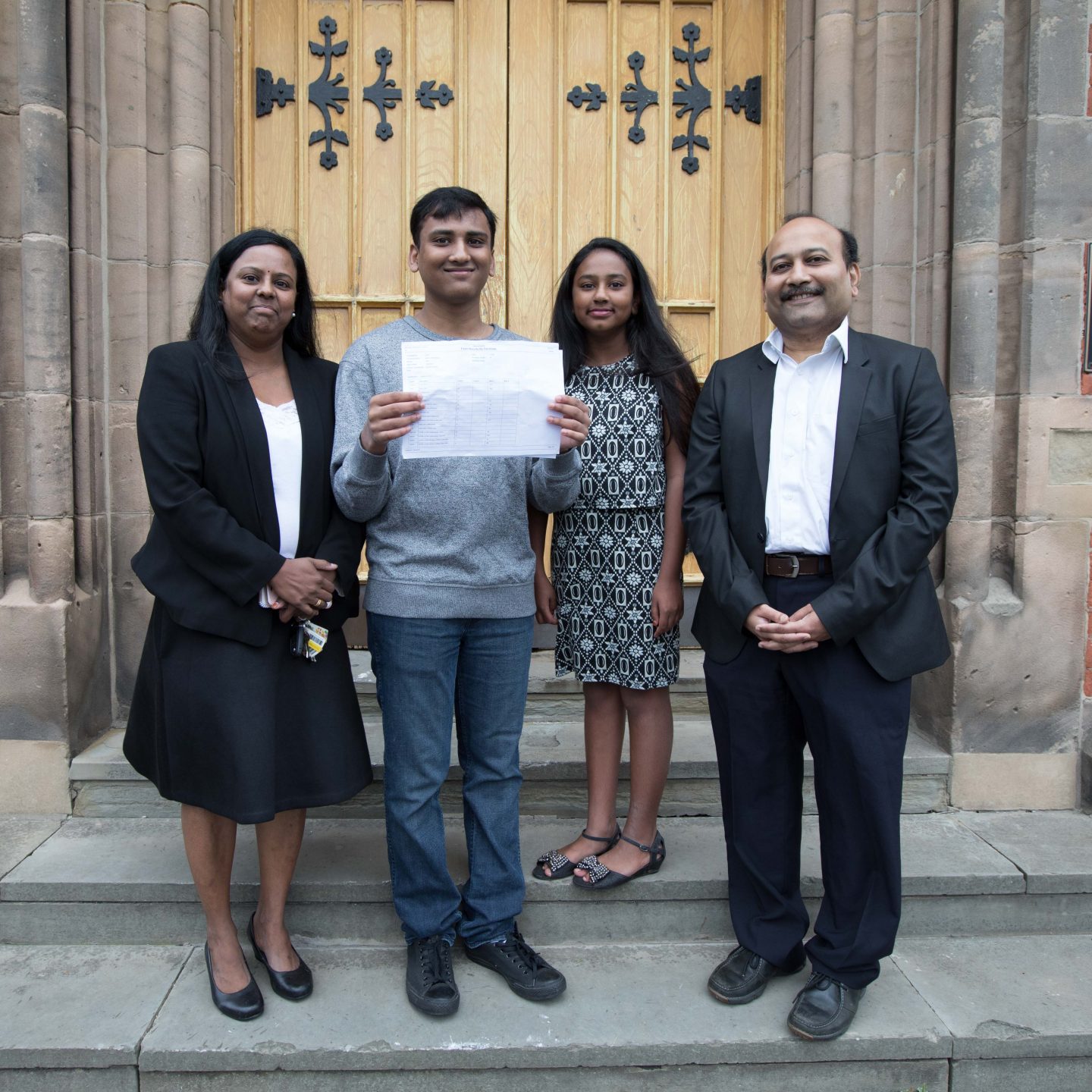 We use cookies on our website to give you the most relevant experience by remembering your preferences and repeat visits. By clicking "Accept All", you consent to the use of ALL the cookies. However, you may visit "Cookie Settings" to provide a controlled consent.
Privacy Overview
This website uses cookies to improve your experience while you navigate through the website. Out of these, the cookies that are categorized as necessary are stored on your browser as they are essential for the working of basic functionalities of the website. We also use third-party cookies that help us analyze and understand how you use this website. These cookies will be stored in your browser only with your consent. You also have the option to opt-out of these cookies. But opting out of some of these cookies may affect your browsing experience.