Drama
Dr John S. Gill- Director of Drama
Ms Jennifer Finnegan
Production Team:
Mr Tony Moore – Head of Lighting
Mr John Turner – Head of Set Design
Mrs Liz Plummer – Head of Makeup
Mrs Mary Shaw – Head of Costumes
Mr David Holroyd – Director of Music
Mr Rob Richardson – Assistant D.O.M.
Ms Louise Edge – Choreographer
Dr Ingeborg Buschmann – Photographer
Mr Mark Stanley, Mrs Natalie Rice & Dr Norma Myers – Front of House Managers
Lower School
One period each week is timetabled for Drama in Year 7. In Year 9, Drama is a timetabled option and there is a double period each week taught by Ms Finnegan and Dr Gill. Ms Finnegan runs a Lower School Drama Club at Friday lunchtime, and there is an annual Lower School production in the summer term. Previous productions have included "Lord of the Flies," "Jungle Book," and "Our Day Out." Lower School pupils can audition for Senior School productions if the parts are suitable; for instance, in "Les Miserables" the role of Gavroche was performed by a Lower School pupil.
GCSE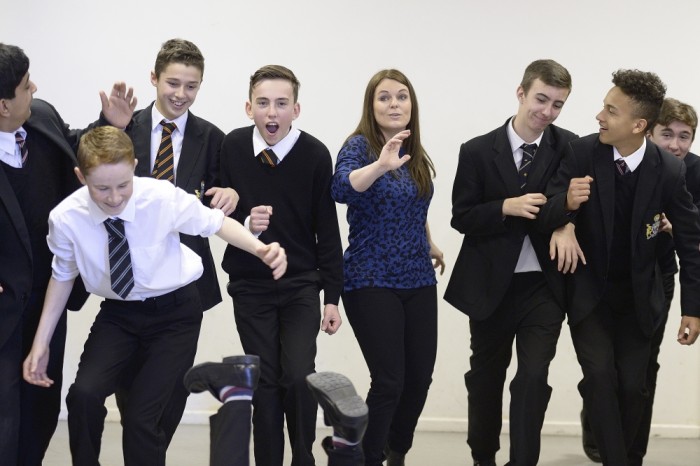 AQA GCSE Drama is now established as a popular choice among GCSE students. The course is both practical and theoretical and is taught by Ms Finnegan.
A Level
At A Level, AQA Drama and Theatre Studies is taught by Dr Gill and Mr Simpson, with Ms Finnegan dealing with the practical work. There are two productions each year, usually a musical and a play. These are joint productions with the Senior Girls' School.
Theatre Trips and Workshops
We organise theatre trips whenever possible. There is a Theatre Club which visits theatres in the North West of England and London. We have taken over twenty trips to various theatres over the last few years; for instance, we went to the Belgrade Theatre, Coventry to see "Blood Brothers" and the Queens Theatre, Shaftesbury Avenue, to see "Les Miserables." Recently, forty students went to see "Joseph and the Amazing Technicolor Dreamcoat" at the Liverpool Empire Theatre.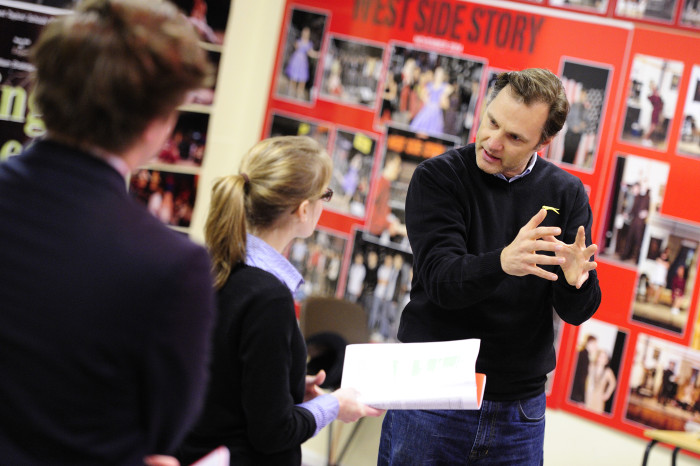 We are proud of the number of our students who have become professional actors and we invite them back to run workshops. Samuel Roukin, Arthur McBain, Robin Morrisey, Mark Rice-Oxley, Nicky Swift, and Robert Feltrup have returned in the recent past to teach Drama and run rehearsals.
Extracurricular Drama
A strong tradition of excellence in Drama has been built up over years of sustained achievement. Shakespeare, political drama, farce, comedies, and musicals have been produced to high standards. For example, in 2008 alone we produced "King Lear" in March, "Dracula" in June and "Grease" in November.
A number of students have gone on to become professional actors: Robin Morrisey, Arthur McBain, John-Paul Hevey, Mark Rice-Oxley, Dan Abelson, Chris Cooper, Robert Feltrup, and Samuel Roukin.
Over the last twenty years we have produced many shows including "Les Miserables" ( twice – in 2006 and 2012), "Jesus Christ Superstar" (twice), "Grease" (twice), "Hamlet," "Macbeth" (twice), "King Lear," "Cabaret," "West Side Story," "Fame," and "An Inspector Calls" ( twice – in 1998 and 2010). Many of these productions have involved large casts of forty or more and played to capacity houses of 500 in the Williams Hall over a four night run. The levels of excitement and enjoyment on show nights are quite special.

We are very fortunate to have the co-operation and expertise of Mr David Holroyd as the Director of Music, whose musical skills and professionalism have supported our productions from "Our Day Out" in 1996 to "Les Miserables" in 2012 and "Joseph and the Amazing Technicolor Dreamcoat" in 2014.
Working in tandem with Ms Sian Tickle, Head of Drama at MTGS, the main Joint School production is performed in November each year at MTS and MTGS on alternate years. Also, another joint production is held in March each year at alternate venues. MTS also produces the Lower School play or musical, usually in the summer term. So each year there are three main productions.
There is a thriving Stage Crew led by Mr John Turner as Head of Set Design and Stage Manager, with Mr Tony Moore as Head of Lighting. Several MTS students have gone on to work professionally in the theatre on the technical side, such as Andrew Graham, Simon Cox, and Colin Wood.
Facilities
The stage in the William Hall is professional in size, and is in fact larger than the stage at the Liverpool Playhouse. The Hall itself accomodates large audiences of 500 people. There are two Dressing Rooms underneath the stage, which have recently been named after distinguished Old Boys of the school who have become professional actors: Samuel Roukin and Robin Morrisey. We have a Lighting Box and a separate Sound Box at the rear of the Williams Hall, and a Workshop/Storage area understage. The Drama Studio is an excellent space for rehearsal and small-scale productions.
Mission Statement
Our main function is to stimulate a love of Drama and performance skills.
We are very ambitious and industrious and produce a large number of shows of different genres: West End musicals, farces, and Shakespeare for example.
We do so because we know that Drama is a very challenging and enjoyable means of stimulating growth in the individual student: emotional, social, spiritual, political, and artistic growth.
By introducing students to the process of audition, rehearsal, and performance, they acquire a grounding in a tried and tested work ethic which will bring them success in whichever avenue of life they travel in the future.
We strongly believe in the work ethic, and also in the "having fun" ethic.
We aim for excellent ticket sales, attempting to work within a budget and to make a profit, which we reinvest in Drama equipment.
We are a stepping stone on the way to a professional career for those students interested in a career in the theatre.
Involvement in our productions leads to increased self-confidence, the ability to speak in public, the ability to play a role and work in a team, and the sheer enjoyment of performing.