Former MTGS Pupil receives Damehood
The Schools were delighted to receive news that former MTGS pupil, Professor Caroline Watkins, was to receive the DBE in the New Years Honours list for her services to stroke care nursing. Caroline is the only Nursing and Stroke Care Professor in the UK, and has received recognition throughout the field for her dedication and commitment to improving stroke care for patients.
A nurse for nearly 40 years, Caroline has held a position as Professor at UCLan for the last 15 years. In that time she has spearheaded numerous initiatives to improve stroke care, which has seen her research incorporated into the National Clinical Guideline for Stroke, the Joint Royal College Ambulance Liaison Committees Guidelines, and the National Stroke Strategy. She co-leads HeadPost, the UK arm of an international study into acute stroke care which is one of the largest nursing care trials in the world and last year received a 'Special Recognition Life After Stroke Award' from the Stroke Association for her contribution to improving the lives of stroke survivors. Her work has also produced the Stroke-Specific Education Framework (SSEF), a free digital service which allows care-providers to easily self-assess their knowledge and skills, and generates bespoke educational resources for the individual's needs. The application won the Guardian University's Digital Innovation Award for 2017 and is used by medical institutions throughout the UK.
On the day, Caroline was the first to receive an award, and said the whole experience 'felt like a dream'. She recalled: "I don't think I've been quite so nervous recently! However, I needn't have been because the Buckingham Palace staff are just amazingly supportive and the whole day was organised to the nth degree. The Palace is very splendid and it was so humbling to see the other 87 people and their families queuing to go up to receive their awards for all the amazing things they have been doing".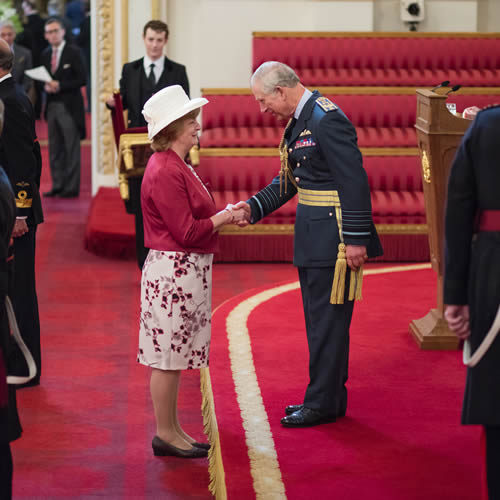 Caroline attended the event with her family – husband Kevin, son and current MTBS pupil Josh, and her 96 year-old mother, Ivy Emily Pope. The day was one of surprises, not least because Caroline found herself sat next to former Kinks frontman Ray Davies, there himself to receive a knighthood for services to the arts. "Ray Davies was just lovely – very modest and unassuming. He too was pleased to think of his mum being so proud of him having the knighthood. It was so lovely of him to congratulate me and it was so cool to meet him".
While extremely grateful to have received the award, Caroline was keen to stress that none of these things happen in a vacuum, and that the award represented the work of many people in unison. "I always feel a bit of a fraud because research is not a sole pursuit. I have whole teams of fantastic staff that work alongside me, and senior colleagues and peers who are truly supportive on a day to day basis. I am also very lucky to have made contact with, and work amongst lots of incredible researchers and people in all walks of life that we collaborate with on projects and programmes.  Not least the people who themselves have had a stroke, or their partners and relatives. They give their time so freely to contribute to improving care and research – not for their own benefit but for others. So I think the award is for all of them too".
We would like to congratulate Caroline on her success and wish her well for future. For more information on Stroke Care please visit: https://www.stroke.org.uk/. For more information on the SSEF, please visit: http://www.stroke-education.org.uk/
We use cookies on our website to give you the most relevant experience by remembering your preferences and repeat visits. By clicking "Accept All", you consent to the use of ALL the cookies. However, you may visit "Cookie Settings" to provide a controlled consent.
Privacy Overview
This website uses cookies to improve your experience while you navigate through the website. Out of these, the cookies that are categorized as necessary are stored on your browser as they are essential for the working of basic functionalities of the website. We also use third-party cookies that help us analyze and understand how you use this website. These cookies will be stored in your browser only with your consent. You also have the option to opt-out of these cookies. But opting out of some of these cookies may affect your browsing experience.