RAF Section retains prestigious regional trophy
We are proud to announce that our CCF RAF Section has won the Royal Air Squadron Trophy (RAST) regional final for the second year running.
The section held off competition from 13 other schools and will now travel to RAF Halton in March 2023 to compete in the RAST national final, where the cadets will hope to better last year's position of fourth. This year, our team excelled in almost all disciplines, including wins in the Command Task and Aircraft Recce, where Cpl Blagborough and Sgt Loftus achieved 100% scores. The section also came second in Drill and RAF Knowledge, third in First Aid and fifth in Shooting.
To add a final jewel to the crown, cadet Flight Sergeant Scott-McCormack was promoted to Cadet Warrant Officer, the pinnacle of her cadet career, by none other than Group Captain Roger Simon, Regional Commandant Wales and West Region.
Sqn Ldr Helen Dipple, OC of the RAF Section, said: "As their commanding officer, I am so proud of what the squadron has achieved. Behind this marvellous result is their tireless and commendable attitude to training. Although CCF is only once a week, the team have given freely of their time three times a week, including all day every Sunday, often perfecting their skills with good humour and a sense of pride in themselves, the RAF and ultimately their school CCF.
"The trophies and shields adorn the CCF office and we will soon need to have the shelf strengthened, particularly if the team win the RAST final in March."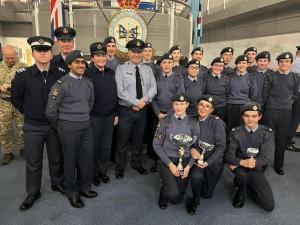 The section comprised CWO Scott-McCormack, Sgt McNeil, Sgt Loftus, Sgt Storch, Cpl Hutchinson, Cpl Pickard, Cpl Boaks, Cpl Zheng, Cpl Gamage, Cpl Blagborough, L/Cpl Holl, L/Cpl McCormick, L/Cpl Bate, L/Cpl Zhai, L/Cpl Pearson, L/Cpl Malins.
We use cookies on our website to give you the most relevant experience by remembering your preferences and repeat visits. By clicking "Accept All", you consent to the use of ALL the cookies. However, you may visit "Cookie Settings" to provide a controlled consent.
Privacy Overview
This website uses cookies to improve your experience while you navigate through the website. Out of these, the cookies that are categorized as necessary are stored on your browser as they are essential for the working of basic functionalities of the website. We also use third-party cookies that help us analyze and understand how you use this website. These cookies will be stored in your browser only with your consent. You also have the option to opt-out of these cookies. But opting out of some of these cookies may affect your browsing experience.