Supporting the female scientists of tomorrow
As the news cycle once again discusses the issue of fewer girls studying Physics and other sciences, we take great pride not only in the opportunities we offer to young female scientists, but also their achievements while at school and in later life.
Data collected by the IOP in 2018 showed 68% of all schools with girls send fewer than two girls to A-Level Physics, while 44% of schools send no girls at all. We are pleased to say that the picture at Merchant Taylors' is very different.
In Years 10 and 11, 100% of all pupils at Merchant Taylors' Girls' School study Physics, while 10% of all our Sixth Form girls are currently studying Physics at A-Level. The majority of those are aiming to study science, medicine or maths degrees at leading universities and they are currently being supported to find related work experience. Indeed, every year girls leave us to study Physics, Astrophysics, or Engineering-based degrees.
Merchant Taylors' girls enjoy an environment where their passion for learning is fostered and encouraged, and where their love of science, or any other subject for that matter, is gently nurtured and stretched beyond the realms of the curriculum.
We offer girls a wide range of enrichment and co-curricular opportunities in STEM topics, including:
CREST award on offer to all Year 10 pupils through the Physics department
XMaS scientist competition, where our girls have been among the winners for the past six years, winning a 4-day all-expenses paid trip to ESRF in Grenoble.
Atos STEM Challenge, where our girls were group winners last year.
IOP lectures, a mix of virtual events and university visits, wherever possible.
A Level Physics Live
Masterclasses for Year 5 and 6 at Stanfield Preparatory School, run by Year 12 girls as role models
Regular trips to visit NASA in Houston, Texas
Preparation for Physics Aptitude Test
Steminists Club
Liverpool University Masterclasses
Intermediate and Senior Physics Challenge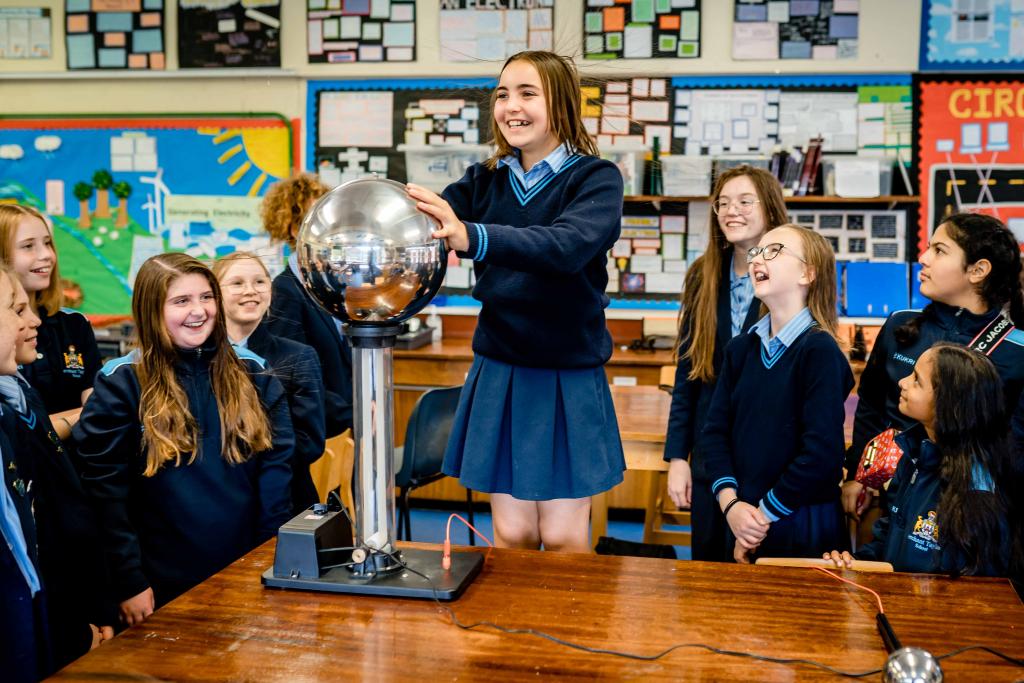 Studying Physics provides pupils with a number of desirable and transferable skills, such as problem-solving and experimental skills, as well as strong mathematical and written skills to be able to explain complex ideas. It also gives them an appreciation of how and why things work and will allow them to be at the forefront of developing technologies that can impact everyday living, whether saving lives through medical Physics or developing sustainable energy resources through studying Nuclear and Particle Physics.
Our girls are certainly not put off by 'hard maths' – they rise to the challenge, exceed expectations, and prove their worth in the various competitions they enter alongside their studies. They do this because they have a general curiosity, a desire to learn and and love for Physics.
We hope many of our pupils will follow in the footsteps of their predecessors at Merchant Taylors', including Lauren McNally, Optical/RF Communications Engineer at NASA's Jet Propulsion Laboratory, Beth Malley, Offshore Tunnel Engineer at Hinkley Point C, or Eadie Weston, Trainee Clinical Scientist (Medical Physics) at The Christie NHS Foundation Trust, to name a but a few.
For Merchants' girls, studying STEM subjects is not an exception, but a natural part of their everyday education, and we enjoy supporting them to become the female scientists, doctors and engineers of tomorrow.
We use cookies on our website to give you the most relevant experience by remembering your preferences and repeat visits. By clicking "Accept All", you consent to the use of ALL the cookies. However, you may visit "Cookie Settings" to provide a controlled consent.
Privacy Overview
This website uses cookies to improve your experience while you navigate through the website. Out of these, the cookies that are categorized as necessary are stored on your browser as they are essential for the working of basic functionalities of the website. We also use third-party cookies that help us analyze and understand how you use this website. These cookies will be stored in your browser only with your consent. You also have the option to opt-out of these cookies. But opting out of some of these cookies may affect your browsing experience.