Mr Gareth Mawdsley
Governor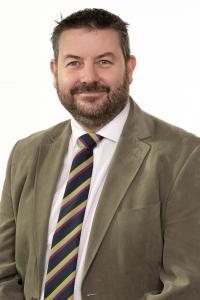 Gareth is an Old Crosbeian (1990-97) and joined the Board of Governors in 2022.
After leaving School, he spent 25 years as a logistics officer in the Royal Navy, serving ashore and afloat all around the world, including in Afghanistan; the Philippines for disaster relief after Typhoon Haiyan; across the Middle East; and a number of tours in Whitehall working closely with HM Treasury and the Foreign Office.
His sea appointments ranged from frigates and destroyers (including taking HMS Dauntless out of build), to time at sea in both US and Italian aircraft carriers, and culminated in being the Commander Logistics of the new aircraft carrier HMS Prince of Wales, leading a team of over 150 logisticians and administrators on board. As a junior officer he read Geography at Fitzwilliam College, Cambridge and more recently completed a second MA through King's College London in Defence Studies.
On leaving the Royal Navy in 2021, Gareth joined John Lyon School in North West London as the Chief Operating Officer responsible for the day-to-day running of the school through provision of HR, finance, administration, estates and grounds support.